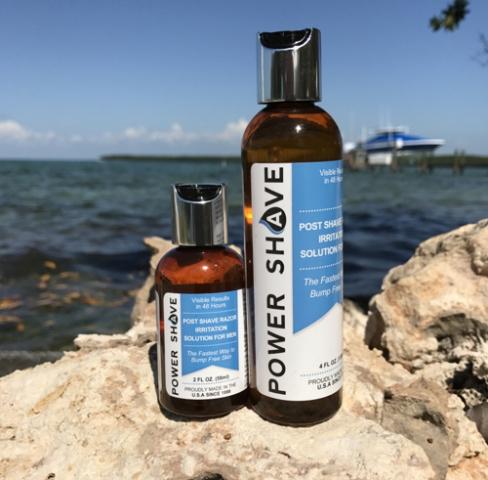 - May 17, 2018 /PressCable/ —
Power Shave is a highly effective treatment for painful and unsightly shaving bumps and ingrown hairs.
Power Shave For Men ingrown hair and shaving bump treatment has been relaunched in the USA after a long hiatus. It was amongst the first wave of post shave treatments to hit the market 15 years ago and was developed by a Pharmacist and a former Master Formulator for Estee Lauder. The founder of the brand struggled for many years to get this innovative product in front of the masses in the USA but eventually ran out of funding and shelved the product.
Body4Real, a long time buyer, had built up a large customer base and was inundated with requests for Power Shave and its sister product Priva Shave when stock ran out in at the end of 2016. The company decided to step in and acquire the US manufactured brand. After painstaking negotiations, a deal was struck and production restarted. Now for the first time in 2 years, Power Shave is back on the market!
Power Shave For Men was designed to eliminate all forms of post hair removal irritations:
Ingrown hairs, Razor Bumps & Rash, Itchiness, skin redness and rashes associated with any and all hair removal treatments (waxing, laser hair removal, electrolysis, tweezing, etc)
Power Shave contains mild but very effective antiseptic and anti-inflammatory ingredients which treat and prevent the formation of bacteria after hair removal. Anti-inflammatory / anti-irritant agents instantly block the introduction of bacteria into the broken skin, and thus eliminates inflammation that leads to itchy red razor bumps (Pseudofolliculitis Barbae), shaving rash and ingrown hairs, along with the associated swelling and itching.
Features:
– Helps to reduce swelling and soreness, skin discolouration and itching resulting from hair removal
– Guaranteed to eliminate all forms of hair removal irritations
– Can be used on the legs, bikini line, underarms
– Effective and quick results
– Can be used after waxing, shaving, laser and epilating hair removal treatments
Further information available at:
http://fuzzylogicusa.com/hair-removal/power-shave-post-shave-treatment-for-ingrown-hairs-razor-bumps-skin-redness-and-rashes-for-men/
How it works:
Power Shave has a unique anti-inflammatory/anti-irritant system coupled with a very effective antiseptic system. The anti-inflammatory / anti-irritant system is highly effective in helping to reduce the normal intense inflammation that results from the irritating process of hair removal. Together these two agents help to prevent the introduction of bacteria into broken skin and block the normal inflammatory process. Power Shave helps to reduce swelling and soreness, scars, skin discolouration and annoying itching resulting from shaving pubic hair. The result is smooth, soft skin.
Release ID: 346336