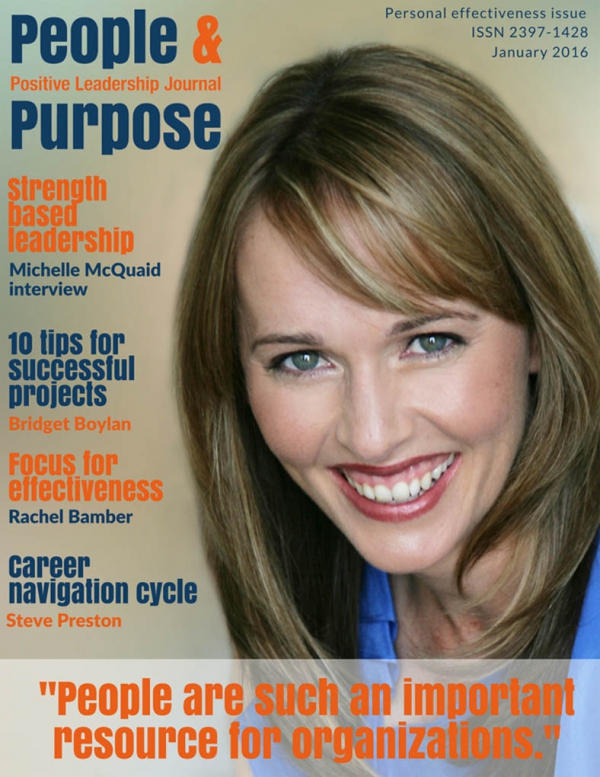 - January 23, 2016 /PressCable/ —
The Personal Effectiveness Issue of People & Purpose – Positive Leadership journal has been released. The current free multimedia issue is available at www.peopleandpurposejournal.com and in the Apple App Store.
This edition includes:
Strength based leadership – "People are such an important resources for organizations." – says Michelle McQuaid. This month's featured interviewee shares fascinating research, including how to get a 63% swing in performance levels, as well as straightforward advice for leaders.
Career Navigation Cycle – Steve Preston discovered the definitive process to achieve successful career change or transition. He shares his 6-step cycle to help readers with career crossroads.
10 tips for successful projects – Bridget Boylan shares a guide for effective project management
How to support the brain to focus, increase productivity & lower stress – Multitasking is a myth – Rachel Bamber shares habits to implement for improved focus and productivity.
In part 2 of her mini-series about coaching, Eszter Molnar Mills shares how coaches should structure their coaching conversations to be more effective. The introductory column includes an infographic summarising Bruce Tuckman's classic model capturing the process groups go through on their way to becoming high performing teams. For the new year 5 resources are included that can help the reader keep the resolutions they choose to make, and for sustainably improving habits.
Commenting on the theme of this issue, Eszter Molnar Mills, Editor-in-Chief said "All change is challenging and while many return to work following the holidays full of good intensions, research suggests that resolutions are rarely kept. In this issue we set out to support leaders wishing to improve the key aspects of personal effectiveness."
People & Purpose is available for free and established and emerging leaders are encouraged to share the journal with others who find the information useful.
Eszter Molnar Mills Editor-in-Chief is available for comment. People & Purpose, the Positive Leadership Journal is published by Formium Development, a strengths-based leadership and organisation development consultancy. Formium focuses on creating effective solutions, which allow clients to identify and build on their strengths and do more of their best work. Its aim is to help individuals and teams improve their performance and become more engaged and more fulfilled within their work. Training and executive coaching is available for managers throughout their career path, including well respected internationally recognised qualifications in management and leadership from the Chartered Management Institute (CMI).
Drawing on academic research and good practice, Formium Development believes that taking a strength-based approach, focusing on positive behaviours and building on what is already working well allows leaders and employees to do more of what they are best at, resulting in enhanced leadership, team and organisational performance.
Release ID: 101845