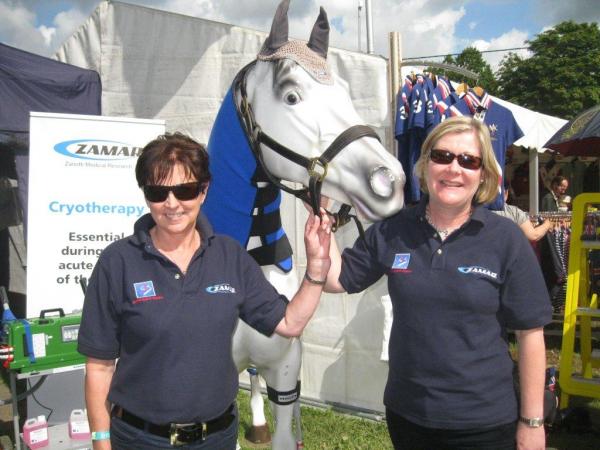 - October 24, 2018 /PressCable/ —
ZamarUK has announced it can provide local customers with cutting edge ice free therapy technology to help horses to perform at their peak and repair faster when underperforming. Zamar machines are are the secret weapon used by top competitors, and offer a way to minimise the effects of a recent musculoskeletal trauma, while accelerating recovery.
More information can be found at: https://zamaruk.co.uk
The site explains that Zamar units provide an easy to use, one-step and drug free therapy option that can help horses to recover in the most effective way. This can be ideal for horse owners who run busy yards and find it difficult to apply hot and cold therapy to their horse's legs.
Zamar machines can provide this hot and cold treatment combined with massage therapy as a way to improve circulation and promote healing. The units are designed to help reduce and prevent joint problems, muscle strains, and ligament and tendon problems.
Customers will find that the system consists of a portable machine that controls the flow of propriety fluid that can maintain constant cold and hot therapies. This is attached to hoses with wraps, designed to be comfortable and easy to use.
When in action, the machine pumps the fluid through the hoses into the form fitting wraps that surround the affected area. This helps to improve circulation and promote healing, while reducing and preventing joint problems, muscle strains and more.
With these units, horse owners can maintain their horses at the highest level possible. The Zamar unit combines cryotherapy and thermotherapy in controlled, quick succession, giving the ability to take temperature from 40 degrees to 0 in about 60 seconds.
The company states: "A Zamar machine does not need ice to function. By using a reversal refrigeration system heat and cold can be produced and controlled. Temperature is transported via insulated pipes safely and with little loss of fluid."
Full details can be found on the URL above. Interested parties can get in touch using the contact details available on site.
Release ID: 430100