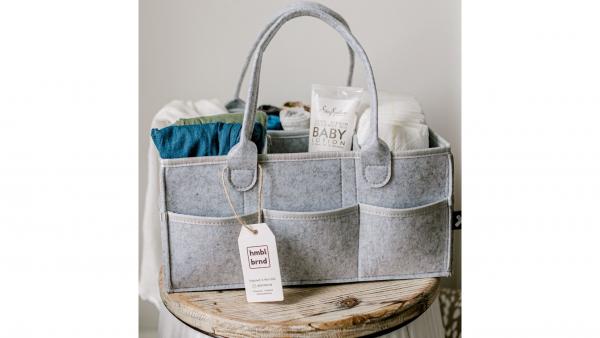 - December 14, 2021 /PressCable/ —
Hmbl Brnd's latest launch offers customers a versatile organizer, capable of storing essential infant accessories, wipes, and creams while also providing a user-friendly changing station. The Windbreaker Caddy makes an ideal gift for parents with young children, combining style with functionality.
More details can be found at https://www.amazon.com/dp/B08PG3HDVQ?ref=myi_title_dp
The announcement details the diaper caddy's range of flexible features including removable dividers that can be configured according to user preference. With a total of 8 pockets and room to accommodate up to 50 diapers, the carry-bag is an innovative, portable and spacious organizer.
Infants in the newborn stage of life can need changing up to 12 times a day. As their bodies develop and digestive systems adjust to richer food sources, parents have to be ready for unpredictable and messy episodes. Diaper caddies make organizing all of the essential cleaning and clothing accessories a much easier task.
The caddy is made from stylish yet soft premium felt fabric. It features stitched handles for convenient portability and makes the ideal companion for parents and families on the move, making it easier to navigate makeshift changing tables or public facilities by having everything in one bag.
The baby caddy is proving popular as a fun yet practical gift for a baby shower or a holiday present for new parents. Hmbl Brnd is committed to providing high-quality goods that are aesthetically pleasing yet robust enough to withstand daily use.
While it has been designed primarily as a diaper storage solution, the caddy can also be used to house toys, books, or any household items that haven't found a home elsewhere.
About Hmbl Brnd
The company was founded by a new father after suffering a messy incident with his newborn son. Convinced that the crisis could have been averted had he been better prepared with wipes and diapers to hand, the idea for the Windbreaker Caddy was born.
A spokesperson says, "Our baby diaper organizer caddy is the ultimate way to keep your baby accessories within arm's reach at all times. There are no sharp edges or hard surfaces so it is baby-approved."
With its latest Windbreaker Caddy update, Hmbl Brnd continues to make life easier for parents across the globe.
For more information, please visit https://www.amazon.com/dp/B08PG3HDVQ?ref=myi_title_dp
Release ID: 89056741