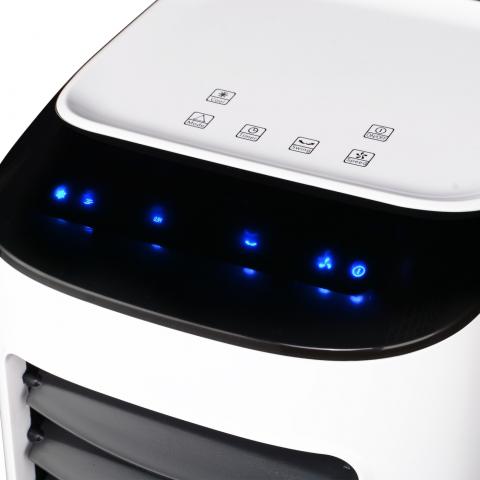 - May 28, 2021 /NewsNetwork/ —
CeCe's Warehouse has launched a new 2021 model of their affordable portable air conditioner, the BestCool Portable Air Conditioner Cooler with Fan and Evaporator Air Humidifier V2. This cooler and humidifier is ideal for use in the home, offices and dorms.
For more information please visit the website here: https://ceceswarehouse.com/products/bestcool%E2%84%A2-portable-air-conditioner-cooler-fan-evaporator-air-humidifier-v2
The newly launched BestCool Portable Air Conditioner Cooler and Humidifier features efficient cooling due to the 7 liter capacity of the water tank.
The cooler makes use of two ice boxes to improve cooling and humidifying performance. It features an automatic left-right swing setting and a manual up-down swing setting to help spread cool air evenly.
The cooler also has three different fan modes and wind speeds. The fan modes include normal, natural and sleeping modes with three wind speed settings that can be easily adjusted. Furthermore, customers can flexibly control temperatures to prevent getting too cold and also enable quick cooling on hot days.
The BestCool Portable Air Conditioner and Humidifier V2 also features remote control. This means by using the digital touch button control panel, buyers can change the power, mode, timer and fan speed settings. The sleep key can be adjusted using the remote control. This makes the cooler and humidifier user friendly and easy to use.
The cooler has a long timer, with a maximum time setting of 7.5 hours. After this, the cooler will turn off automatically, reducing the risk of leaving the unit on. The cooler features a visible window on the front side, making it easy to keep track of the water level clearly.
There are four universal swivel casters attached to the cooler, making it convenient to move and maintain. The dust filter that purifies the air in order to create clean, fresh cool wind can also be removed for ease of cleaning after use.
A spokesperson states: "Cece's Warehouse is the world's leading expert for procuring the trendiest items for everyone all in one place at everyday low prices. We source from mostly US warehouse's and some trusted international warehouses."
Those wishing to find out more can visit: https://ceceswarehouse.com/products/bestcool%E2%84%A2-portable-air-conditioner-cooler-fan-evaporator-air-humidifier-v2
Release ID: 89003336