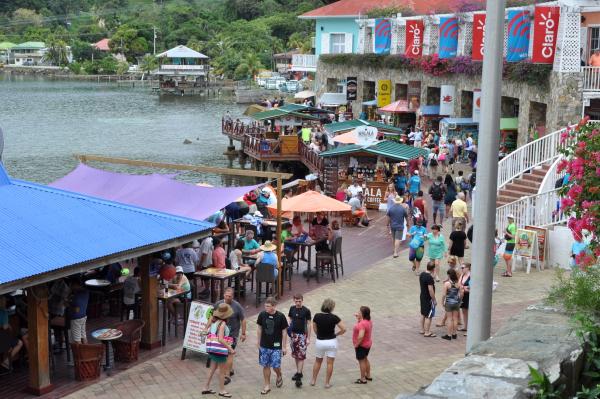 - February 9, 2020 /PressCable/ —
It wouldn't be long before major cruise lines made Roatan a popular cruise destination. Roatan sits on the second largest reef system on the planet, the Mesoamerican Barrier Reef. Travelers encounter world-class diving and snorkeling with a short swim from shore. Island guests can also find a diverse amount of activities and things to do in Roatan, as compared to other western Caribbean ports.
In just over a decade, there have been two cruise ports built on this western Caribbean island. In 2018, ITM Group purchased the majority of the Port of Roatan from Royal Caribbean. The Mexican company has expanded its operations from the eastern Caribbean to the Dominican Republic, spending hundreds of millions of dollars on new projects.
As for Roatan, the cruise port in Coxen Hole is continuing its master plan project. The second berth is complete and operational, allowing for two docked ships at a time. Furthermore, the projected attractions include an adventure Island, restaurants, shops, etc.. A somewhat of a theme styled port to keep cruise line passengers at their grip.
Some locals and environmental groups are not pleased with the expansion, as they are worried about the damage caused to the reef system. To add insult to injury, a current study is underway on the east side of Roatan for a third cruise ship port in New Port Royal. The Silversea Cruise Line recently tendered one of its ships in New Port Royal. The successful visit by more than 200 passengers marked a new era for Roatan and the tourism industry for Honduras. One things for sure, the infrastructure of the island must progress with the times if it's to keep up with the supply and demand.
Meanwhile, major cruise lines such as Carnival, Norwegian, MSC, and Royal Caribbean continue their weekly schedules to Roatan. It's estimated over one million tourists visit Roatan yearly and the numbers are steadily rising as the demand grows for this Caribbean paradise.
Release ID: 88945616