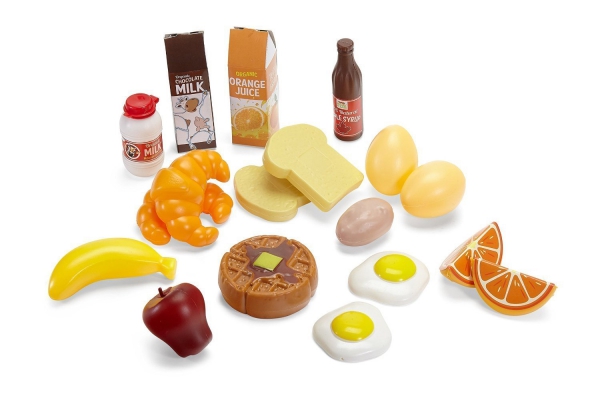 - November 17, 2016 /PressCable/ —
The Mommy Please's childrens toy set is the #1 play food set on Amazon.com. This week they announced that a stacked discount will be offered on this top-selling play food set.
"Our goal is to provide children with a toy where through play, they can learn about healthy food choices," stated company spokesperson Elsie Murphy. "By stacking discounts and lowering the price point of the product, our hope is to expand the reach of our toy food set and it touch the lives of even more children."
Mommy Please uses only the highest quality ingredients for the production of their 125-piece play food set. The plastic is BPA-free, which means it contains no harmful chemicals and is durable, able to withstand hours of play from children ages three and over. There is a large variety of foods contained in the food set, including foods from each of the four main food groups. The set includes broccoli, croissants, tomatoes, cucumber, potatoes, chocolate bar, cheese, bread, ice cream, french fries, watermelon, grapes, strawberries, apples, peppers and much more. With the wide range of choices, children are able to learn about new food items and how to make healthy food choices through imaginative play.
Customers love the Mommy Please play food set. Over 75 customers have left reviews for the product on Amazon.com, of which 96% of customers state t
hey like their play food set. One verified purchaser left a five-star review and wrote, "My kids just got a play kitchen, so I wanted to buy them some play food for it. This ended up being the perfect all around collection of play food! They love it, and it also helps them with their food vocabulary."
Sold exclusively on Amazon.com, with the current discounts, the Mommy Please play food set is priced at $24.97, or over 50% off the retail price. Amazon offers free shipping on all orders over $49.
About Mommy Please: "Mommy Please has worked tirelessly to bring children a play set that will never cease to keep their imaginations going. We strive to ensure that happiness, education, and creativity are all incorporated into play time every single day. As a company that focuses on family values, Mommy Please intends to influence the lives of families around the world."
Release ID: 147168