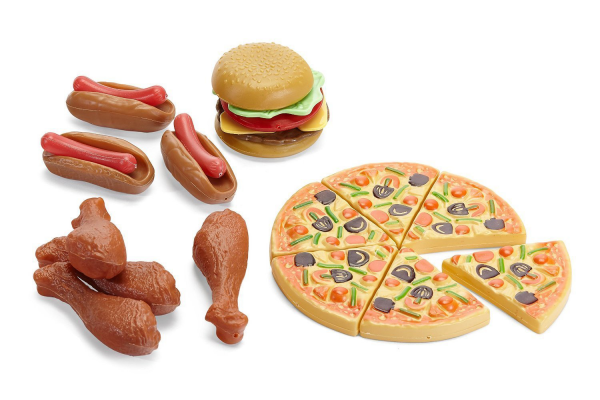 - December 9, 2016 /PressCable/ —
Mommy Please has something to celebrate. This week, their 125-piece toy food set was ranked the #1 toy food set on Amazon.com. "We are humbled, thrilled and honored to have the #1 play food set on Amazon," said Mommy Please spokesperson Elsie Murphy. "There are thousand of products on Amazon. Our product has broken sales records and projections. More important than that, the Mommy Please pretend food set has a very loyal following. We have received countless notes, reviews and messages from customers, sharing how our product has been enjoyed in their home. Nothing is like the feeling of having a happy customer. This is why we make our product."
Made of a bright, BPA-free plastic that is shatterproof and safe for children ages three and over, the Mommy Please toy food set is designed to help children learn while they are playing. Not only is the food fun to look at and play with, some of the pieces have nutritional information or fun food facts printed on the pieces, to allow another level of learning for the children as they play. The 125-piece set contains both healthy and non-healthy food choices, to allow children to learn about different food options, and how to make healthy food choices. Some of the food pieces included are pizza, juice, peppers, apples, green beans, asparagus, cauliflower, broccoli, potatoes, bread, milk, tomatoes, ice cream, grapes, and much more.
96% of customers state they like their Mommy Please play food sets in their Amazon.com reviews. One five-star reviewer wrote "My two-year-old grandson has had a play BBQ grill since he was one and had learned the very basics with old style foods. When I showed him your foods, his eyes lit up, and he immediately started saying some foods he actually knew: "pizza" "chick wing"….These foods expanded his "cooking skills" and encouraged him to use his big words!! Thanks!"
The Mommy Please play food set can be purchased exclusively on Amazon.com. For a limited time, the food set is priced at $23.97, over 40% off the retail price.
About Mommy Please: "Mommy Please has worked tirelessly to bring children a play set that will never cease to keep their imaginations going. We strive to ensure that happiness, education, and creativity are all incorporated into play time every single day. As a company that focuses on family values, Mommy Please intends to influence the lives of families around the world."
Release ID: 153007