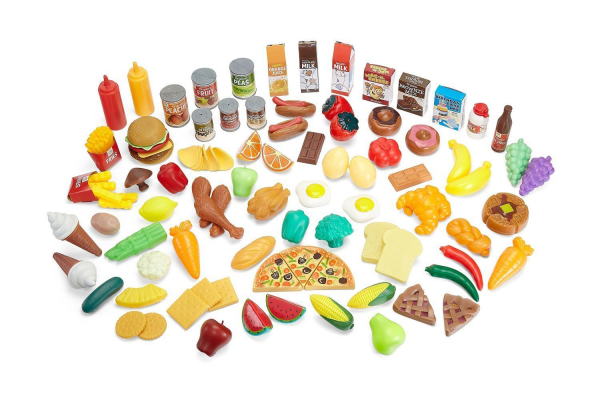 - November 14, 2016 /PressCable/ —
Since the release of their top-selling play food set earlier this year, Mommy Please has received much notice and attention. Customers loved their food set and have made it the #1 selling play food set on Amazon.com. This week, Mommy Please was applauded for the health benefits of the toy food set.
Health benefits are not typically associated with a top-selling toy. Mommy Please wanted to make their toy food set special and designed it with health benefits of children in mind. With 125- pieces, the play food set contains a large variety of food options. Some of the food pieces contain nutritional information and fun facts, to help children learn more about the foods.
"Our play food set has food from every food group – both healthy and non-healthy. You may ask how this can promote healthy eating in children?" stated company spokesperson Elsie Murphy. "We purposely included food like pie, ice cream, hamburgers and pizza in our food set. Children know and are familiar with these food choices. We have also included items such as asparagus, peppers, chicken, cucumbers, tomatoes and more. We want to broaden the variety of foods that children are exposed to and encourage them through imaginative play, to construct healthy meals."
Sold exclusively on Amazon, the play food set by Mommy Please is made of durable plastic that is colorful, sturdy and BPA-free. Customers have left many positive reviews on Amazon. One five-star reviewer wrote, "I gave this set to my 3 year old niece. She has a kitchen set that she plays with all the time. She quickly put this set to good use. She had a blast "shopping" for groceries and "cooking" dinner for the family. The set seems durable, and the detail is great. The pieces look so much like real food. Great pretend play food for kids ages 3+."
The Mommy Please toy food set is currently priced at $24.97, almost 50% off the full retail price. Free shipping is available on purchases over $49.
About Mommy Please: "Mommy Please has worked tirelessly to bring children a play set that will never cease to keep their imaginations going. We strive to ensure that happiness, education, and creativity are all incorporated into play time every single day. As a company that focuses on family values, Mommy Please intends to influence the lives of families around the world."
Release ID: 145706