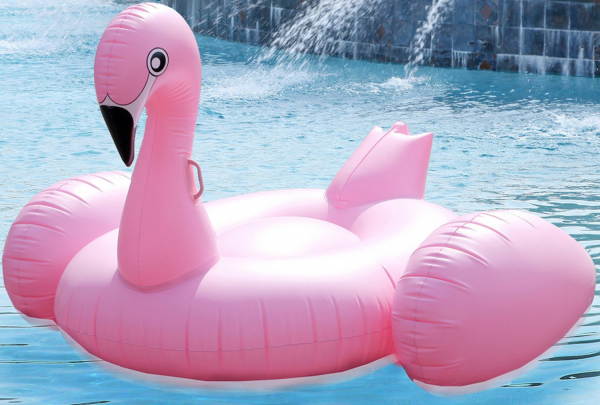 - December 8, 2016 /PressCable/ —
The Teddy Shake 80-inch inflatable flamingo float has quickly become a favorite for customers. It is the #1 ranked pink flamingo float on Amazon.com, and has gained a very loyal customer base. Over 250 satisfied customers have left reviews for the float, with the average rating of 4.9 out of 5 stars. Even as sales continue to climb, Teddy Shake announced today that it would have a special discount on the price on the float for the next two weeks.
"Sales on our float have far exceeded projections and expectations," said Teddy Shake spokesperson Bailey Anderson. "We are thrilled with the response and the following we have received so far. We understand that this time of year can be expensive. Families must pay an increased cost to heat their homes. Families are trying to buy gifts for their friends, family and loved ones – this can be a financial hardship. For a short period of time, we have discounted the price on our flamingo float, hoping that this will make it a more affordable gift giving option for customers."
The pink flamingo float by Teddy Shake measures an impressive 80-inches in length. It is constructed of a high quality, durable vinyl that is bright pink and fun. There are multiple inflation valves on the flamingo to make inflation easier, and it has two handles on the neck, to make it easier for riders to hold on.
One five-star reviewer wrote "This is the absolute best beach float around. Four adults and two children floated around in the Atlantic this fall. Currently, My Flamingo is sitting in my Living Room, being used as a cushion to watch Football games on the weekend. The dogs and cat lay on there with me, and usually, we fall asleep. Extremely durable and the most fun I have had with a Floaty in a long time."
For a limited time, the discounted price of the Teddy Shake flamingo float is $34.99, with free shipping is available on all purchases of $49 or more.
About Teddy Shake: "As relaxing as a Bahama breeze; Teddy Shake makes the world's most relaxing, fun, and quirky pool floats for you and your family. With constant R&D and innovative thinkers working to make the most incredibly pool floats and toys possible, we want nothing more than for you to have the time of your life."
Release ID: 152642