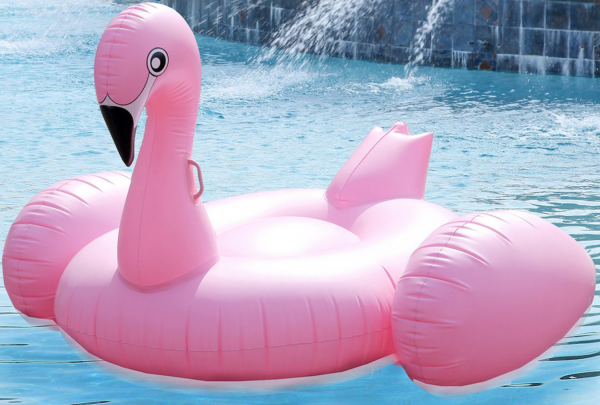 - January 26, 2017 /PressCable/ —
It has been six months since Teddy Shake launched their best-selling pink flamingo float. Company spokesperson Bailey Anderson issued a statement this week about the anniversary celebration for the company.
"It has now been six months since we launched our pink flamingo float," said spokesperson Anderson. "There is so much for us to celebrate. Sales have far exceeded our projections and expectations. Even more important than that, has been the response from our customers. We have received countless emails and messages from customers telling us how much they love our flamingo float. We are excited about the future of our company, and of our pink flamingo float."
The Teddy Shake inflatable flamingo measures 80-inches in length and can provide hours of fun for everyone. The float is large enough for an adult to lounge on it, or several children can ride the float at the same time. The material used in the construction of the float is a cheerful bright pink color and durable enough to withstand hours of use without deflating.
Over 90 customers have written reviews for the Teddy Shake pink flamingo float on Amazon.com. Of those reviews, 100% of customers wrote that they loved their pink flamingo float, with 93% of reviewers providing the flamingo inflatable with a perfect five-star rating. A recent five-star review was written by Sarah who said "To say that this is a well-loved item is an understatement. My daughter LOVES this flamingo float! First of all, it's HUGE! I think she feels like a queen when she's floating around the pool! It's well made. It's perfect for kids of all ages. We are just waiting for the weather to warm up again so we can get our float on. We had to deflate it because she wanted to sleep with it in her room! It brought lots of fun to our pool time."
Teddy Shake has an exclusive selling partnership with Amazon.com, and their popular flamingo float can only be purchased on the website. The pink flamingo float is currently discounted to celebrate the company anniversary and is priced at $34.99.
About Teddy Shake: "As relaxing as a Bahama breeze; Teddy Shake makes the world's most relaxing, fun, and quirky pool floats for you and your family. With constant R&D and innovative thinkers working to make the most incredibly pool floats and toys possible, we want nothing more than for you to have the time of your life."
Release ID: 164706