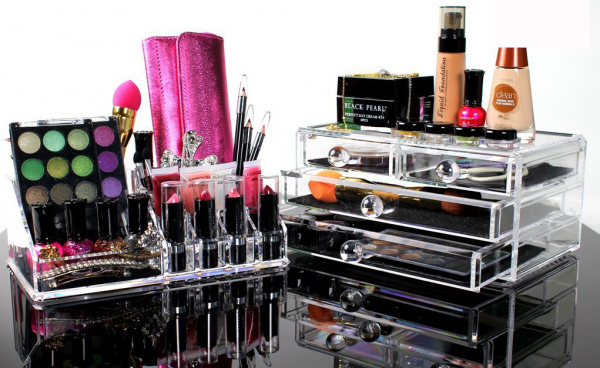 - December 22, 2016 /PressCable/ —
February will mark the two-year anniversary of the launch of the acrylic makeup organizer by Cosmopolitan Collection. In order to celebrate this, Cosmopolitan Collection would like to plan special events and festivities for their loyal customers.
"When we launched our makeup storage system almost two years ago, we had invested a considerable amount of time into research and development, but did not know if this was a product customers would really want and use," said Cosmopolitan Collection spokesperson Rob Bowser. "We have consistently exceeded sales projections and gained a loyal customer base, who has used our organizer for makeup and other products around the house. We want to say thank you and celebrate this anniversary and success with those who matter most to us, our customers."
Made of a clear, durable acrylic, the Cosmopolitan Collection organizer is shatterproof, scratch resistant and very easy to clean. The acrylic unit comes in two pieces that can be used stacked or separated, to maximize the flexibility of the unit for customers. Within the unit are four drawers and sixteen other compartments, which can hold everything from makeup brushes to lipstick, eyeshadow and anything else a customer can imagine.
Over 125 happy customers have written reviews for the Cosmopolitan Collection makeup organizer on Amazon.com. One verified- purchaser left a five-star review and said, "I bought this to organize my very small makeup table/vanity. I like having my makeup out in the open, it makes me more likely to keep everything in its place. Previously I had everything in a basket, and had to dig to find what I was looking for. This keeps everything in easy reach."
The Cosmopolitan Collection clear makeup organizer is currently priced at $29.97 and sold exclusively on Amazon.com. Any order from Amazon over $49 will ship for free.
About Cosmopolitan Collection: "As an honest and ethical company, Cosmopolitan Collection focuses all energy, resources, and effort to organizing the world in a beautiful way. By creating a single, acrylic makeup organizer, Cosmopolitan Collection works to improve the world by bringing the best quality makeup organizer in the world to market so that all men and women can use and enjoy the product at a reasonable price."
Release ID: 156313