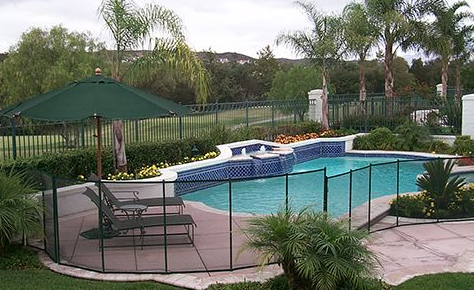 - July 28, 2016 /PressCable/ —
Pool Fence Manufacturer http://allsafepool.com in Las Vegas is a comprehensive pool maintenance and security store with decades of combined experience in the safety aspect of keeping pools, no matter their size, secured behind fencing for family's with children, continues to provide residents with the assurance and presentable fencing they need to have some peace of mind with children.
Borne from a passion for addressing the nerve-wracking safety concerns that come with owning a pool in one's backyard, All-Safe Pool Fence & Covers specializes in designing and providing pool fences, pool nets, pool covers, pool alarms, and customizable combinations for any family requirement.
"Anyone who owns a pool and also has a family knows how stressful and burdensome the combination can be at times," said Reed Hauge, Founder and Owner of All-Safe Pool Fence & Covers. "No one wants to ever even entertain the thought of something happening to their child, let alone it happening right in their backyard below their radar. Our pool fencing and netting solutions are here to help all pool owners sit back and enjoy the sun this hot summer in Las Vegas."
All-Safe Las Vegas removable pool fencing is strong, lightweight fencing designed for establishing a layer of pool safety while also being flexible enough to easily take-down and store away for lavish poolside gatherings. The fence is made of durable mesh fabric comprised of PVC coated vinyl that is nearly impossible for anyone to tear. The fencing comes with supportive poles, which are spaced every three feet, and made from aircraft grade aluminum for maximum strength and durability.
For installation, small holes are drilled into the owner's deck and the pool fencing and poles are inserted into the holes. When the fencing does not need to be in use, the mesh pool fence is then fully removable and can be rolled up for a quick and easy storage process. The result is a common-sense safety solution that every family home with a pool could use this summer.
"Most people think that pool fencing is this big, bulky fencing procedure that permanently obstructs their backyard view and presentation," said Reed Hauge. "Our fencing is the exact opposite. Its minimalist structure makes it easy on the eyes, and is so easily stored away that setting up for a party or gathering will take just a few minutes."
All-Safe Las Vegas has been proudly manufacturing and installing pool fences for over 20 years, and come with a perfect safety record and zero reported drownings. Their fence materials exceed the nationally recognized standards for pool fencing and are commonly adopted by foster care, day care, adoption agencies, and homes as a primary pool safety device.
"Our fences are climb resistant, keeping children of any size from jumping the fence and getting into the pool," said Reed Hauge. "Say yes to reliable safety this summer in Las Vegas, and head on over to our platform to learn more about pool fencing, pool nets, pool covers, and more!"
Release ID: 125426