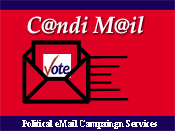 - November 17, 2020 /PressCable/ —
When the recognized inventor of political robocalls and robo polling, AD "Tony" Inocentes, launched a political email blast service in February 2018 there was no doubt he was on to something big. But, launching a new political email service was not really such a unique event because political campaigns began using emails at least 3 decades earlier.
Inocentes the Founder and Chief Consultant of the nationally recognized political digital marketing agency ePolitical USA, the brand owner of CandiMALL GOTV Store toolbox, was already facing an big uphill battle to get candidates and campaign managers to seriously utilize emails as political emails were being used already for decades, But political email always got bad reviews by candidates as only 1-3% % of the emails were making their way into primary inboxes over 94% landing in the spam folder never to be opened. Most politicians were paying no mind to political emails as a serious tool, and many had already had bad experiences using email in the past.
However in just 2 years ePolitical USA branding their new political email blast services CandiMAIL have already leaped in a single bound to the forefront of the political email business with remarkable results. They now stand alone boasting of 96% primary inbox success with average opens of 20% within 24 hours of launching a project. Inocentes says "CandiMAIL is not only the best political email in the nation but our results prove we are faster, better, and cost so much less then the U.S. Postal Services. Especially with the pandemic slow down."
When asked about how this success was achieved so quickly, Inocentes replied, "Sorry much of how we built this solution is proprietary, however I did seriously researched the whole email industry for close to six months and I found things that could be improved to insure primary inbox deliveries almost 100% of the time. Most of the undelivered emails is caused of bounced or blocked mail."
Presently CandiMAIL delivery is priced at 2.9 cents vs over 90 cents through the U.S. Mail, once the printing costs and postage per piece is considered. Then you must consider the speed at which a voter can be contacted moreover, that an email could link to other things like a candidate's website or a video makes using CandiMAIL an easy decision. Political email has just risen from seldom use to a must use service for contenders. The savings could convert a non-contender with a small budget into serious contender.
Inocentes further stated, "CandiMALL GOTV Store's pricing is an attraction for candidates and their political consultants because the pricing is the most reasonable and, for some services, the lowest in the country.Moreover, our customer service is unquestionably solid and diligent."
Inocentes believes that the 2022 elections will continue to pivot from the traditional door knocking, phone banking campaigns in favor of the digital campaigning using, emails, robo services, text, Xoom online town halls and debates, and geo-targeted Wifi advertising.
CandiMALL GOTV Store is the political tool brand of ePolitical USA which is a member of the business, political and non profit promoter syndication Chemeria Consultancy founded in 1973.
Release ID: 88985913