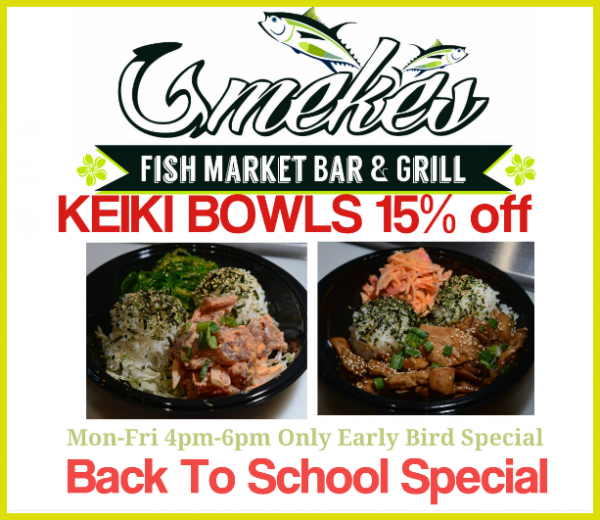 - October 7, 2016 /PressCable/ —
Umekes LLC was named winner of the Official Best of Hawaii 2016 "Best Poke Bowls" beating out numerous other competitors to take home top honors. Media World USA of 6671 W. Sunset Blvd Suite 1535 of Hollywood California, presented the award to Umekes LLC . Details about the award can be found on the Media World USA company website at www.OfficialBestof.com and on Umekes Facebook Fan Page at https://www.facebook.com/UmekesFishmarketBarAndGri… and Umekes Instagram page at https://www.instagram.com/p/BK3dCDVAEvn/ In addition, Umekes LLC two Poke restaurants, will be featured on the Discovery Channel, KGMB Hawaii and KCBS Los Angeles in December 2016.
Potential award recipients were required to be nominated by Official Best Of Researchers in order to be in contention for the Best of the Best Poke Bowls 2016, and were judged based on by merit, special 2 month research, and strong local support . Nakoa Pabre, Chef/Owner of Umekes LLC which includes the following businesses: "Umekes Poke Bowls and Lunch Plates" and "Umekes Fishmarket Bar and Grill" were pleased about the company's performance, saying:
"We have worked hard over the past several years to provide the Best Freshest Poke to our customers and to our VIP Poke Club members, as well as educate everyone to traditional and modern fusion styles of Poke. It is exciting to see all that hard work pay off in this award and we are extremely grateful and humbled by this recognition."
Official Best Of researchers located across the country spend at least 2 months per show compiling a collection of the very best attractions and destinations in each state. Once the research is complete and destinations have been chosen, a show is produced and aired. Each state's show is promoted and aired within that state as well as on a national level, and also on the OfficialBestOf.com web site. One distinction that sets Official Best Of apart from many other travel sites is that it doesn't accept advertising on either its television shows or its website. The selection of attractions is by merit, and it is with great pleasure that Umekes LLC has been selected within the State of Hawaii.
Persons interested in learning more about Umekes LLC and the award can visit the website at www.OfficialBestof.com and www.umekespoke808.com and www.umekesfishmarketbarandgrill.com
Release ID: 136562