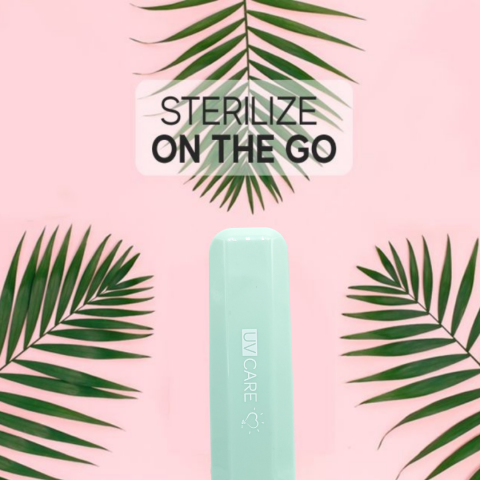 - April 3, 2021 /PressCable/ —
UV Care, a company based in Arcadia, California that provides chemical-free sterilization and Germicidal solutions, has launched a pocket sterilizer.
Go to https://theuvcare.com/collections/frontpage/products/uv-care-pocket-sterilizer for more info.
The launch provides an on-the-go solution for people who are concerned about germs and other harmful irritants. The company says they have created the product to ensure people remain germ-free wherever they go. Prominent platforms such as the Hallmark Channel, Good Day Sacramento, CBS13, Fox31, and CW39, have featured the item as a product recommendation for travel and wellness purposes.
The pocket sterilizer has been lab-tested and has been proven to kill up to 99.99 percent of germs, bacteria, and viruses in the home. It's suitable for disinfecting any small object including remote controls, silverware, and more. The company explains that the device is chemical-free. It uses UV-C light technology which can kill viruses and allergens, and comes doctor recommended.
The portable device is lightweight and small enough to fit inside a handbag or travel case. It uses AAA batteries and comes with a mini USB cable. Individuals are advised to flip open the device, press the power button, and shine its light on to the surface they wish to sterilize for a few seconds. A safety switch ensures the device turns off when turned upward.
As part of the launch, the pocket sterilizer is available in four colors. Customers can choose between white, seascape blue, crimson red, and mint sorbet on the company's website. The product can also be purchased on Amazon. More information can be found by visiting https://www.amazon.com/UV-Sterilizer-Ultraviolet-Antibacterial-Disinfection/dp/B07MNH6JB3
J. Reyes, a previous customer, says, "Awesome product – for such a small and compact product, couldn't believe how powerful it is. It can sanitize almost anything. So handy for everyday use and travels."
UV Care is a provider of germicidal solutions and the creator of the pocket sterilizer. Their mission is to keep families safe and healthy by fighting germs in the home. They are certified and the leading provider of UV-C germicidal products.
For more information on UV Care and the launch of their pocket sterilizer visit https://www.hallmarkchannel.com/home-and-family/holiday-travel-essentials and the URLs above.
Release ID: 89003793