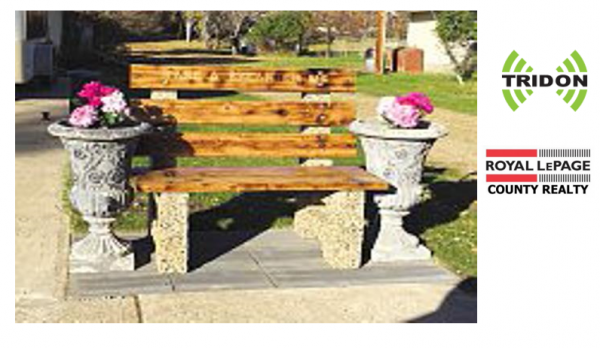 - October 26, 2017 /PressCable/ —
A new bench was built to be a rest stop for Pleasant Valley Lodge residents who enjoy walking as their daily exercise but found it too difficult. The project is sponsored by two local companies who care; Tridon Communications and Royal LePage County Realty.
For more information on Tridon go to http://tridon.com
It's no secret that starting or maintaining a regular exercise routine can be a challenge at any age and it doesn't get any easier as the body gets older especially if going on a walk and there is no place to have a rest to replenish energy along the way.
Local Athabasca resident Rick Baksza lives down the street from Pleasant Valley Lodge a supportive living community and noticed that not many seniors were out enjoying the picturesque walk on the street in front of his house and the lodge. One day while speaking with a neighbor Baksza learned the reason the seniors were not walking was because there was no place to rest along the way and it made the walk too difficult for most of them.
Baksza's parents recently retired so he knows how important it is for seniors to exercise and walking can be a big part of that. "The resting bench is my way of helping my neighbors enjoy our community and walk more often" remarks Baksza. Realizing he had the perfect space right in front of his house, Baksza finalized plans for a resting bench and recruited Trevor and Tamara Yurchak from Royal LePage County Realty to partner with Tridon Communications on the project.
For more information on Royal LePage County Realty go to http://agents.royallepage.ca/athabasca/
Together they built a resting bench so anyone enjoying a walk and needing to stop, can sit on the bench and have a little rest. Now the seniors at Pleasant Valley Lodge can "Have a Break On Us" says Baksza.
For seniors especially, becoming more active can energize their mood, relieve stress, help manage symptoms of illness and pain, and improve an overall sense of well-being. And reaping the rewards of exercise is about adding more movement and activity to one's life, even if the activity is a lovely walk down a picturesque street with a nice bench to rest on if needed.
Release ID: 255511