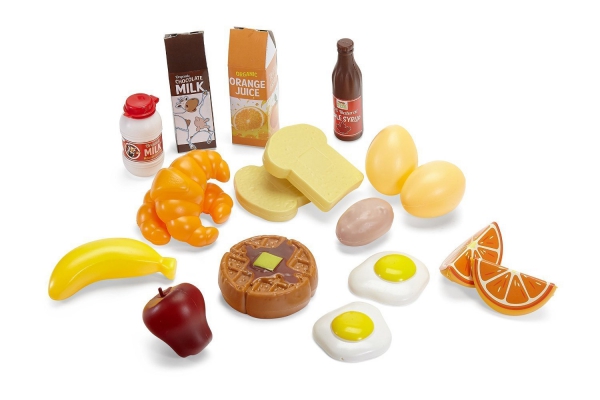 - April 19, 2017 /PressCable/ —
Mommy Please has become the #1 rated play food set on Amazon.com. Since the release of their 125-piece play food last year, the toy food has gained in sales, popularity, and base of satisfied customers.
Elise Murphy, the company spokesperson for Mommy Please, issued a statement about the company's success. "Do you know what has made us so successful? We are committed to kids and developing a quality product for them. Everything we do – is about the kids. We consider the interests of these kids, the habits, the health, and the lives of the children who play with our toy food set. We designed a product that would be fun for children, where they can learn about healthy eating and good food choices through play. We are excited about the sales, the feedback, and know that we are doing some great things!"
The play food set features 125 individual pieces that are designed by USA artist, made of BPA-free plastic and some of the pieces are labeled with nutritional information and fun food facts that help to educate children on why healthy foods are better for them. The toy food pieces include apples, bread, asparagus, grapes, pizza, hamburger, cauliflower, potatoes, watermelon, peppers, corn, tomatoes, potatoes, ice cream, croissants, green beans, juice and more.
Over 400 customer reviews have been written on the Amazon product listing for the Mommy Please play food set. Ninety-six percent of reviewers say they liked their play food set, with the average review rating a 4.7 out of 5 stars. Maggie, a verified purchase, wrote a five-star review on Amazon.com and said "I bought this for a group of three little sisters. I wanted to make sure to purchase something that would allow them to be creative, imaginative and of course, to share with each other. They absolutely loved this play set. They have been playing restaurant, kitchen, and catering. The pieces are nicely made and have been holding up well between all the playing. I am thinking of purchasing more for other kids that I know would have a great time playing with these. I definitely recommend!" Other reviewers have written about how the Mommy Please play food set has made a positive impact on the eating habits, imagination, and creativity of their children.
The Mommy Please play food set can be purchased exclusively on Amazon.com. It is currently on sale for $23.97, with free shipping is available on all purchases over $49.
About Mommy Please: "Mommy Please has worked tirelessly to bring children a play set that will never cease to keep their imaginations going. We strive to ensure that happiness, education, and creativity are all incorporated into play time every single day. As a company that focuses on family values, Mommy Please intends to influence the lives of families around the world."
Release ID: 187891