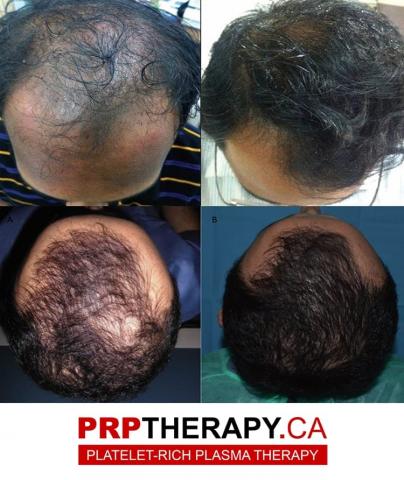 - September 13, 2020 /PressCable/ —
Canadians interested in finding an effective and safe treatment for hair loss, facial rejuvenation and anti-aging benefits have a good reason to be happy. PRP Therapy is in great demand, and now a first-class PRP Therapy Treatment Clinic has opened in Richmond Hill, and accepting patients.
In exciting news for the extended Toronto, Richmond Hill and Greater Toronto Area , Laser Wellness has launched a new website that specializes in PRP therapies. PRP Therapy focuses on hair loss, facial rejuvenation, scars, and anti-ageing treatments using Platelet-Rich Plasma. Platelet-Rich Plasma, also known as PRP, is a regenerative cell-based therapy that uses one's own platelets (the cells in your blood) to support the natural healing process in damaged tissue and organs, promotes skin rejuvenation effects, alopecia, and many other medical fields.
PRP is known as autologous conditioned plasma, a concentrate of platelet-rich plasma derived from whole blood, centrifuged to separate the plasma from the red blood cells. With this new biotechnology, the concentrated platelets is injected back into the body, into damaged ligaments, joints, and tendons to promote tissue repair; into the scalp to stop hair loss and promote hair regrowth, and facial areas to treat scar revision and facial rejuvenation (vampire facial). The local interest in PRP has been skyrocketing, fuelled by positive media coverage, and feedback from Canadians about the results they have seen from the therapy. The new clinic is positioned perfectly to exceed local expectations.
More information about PRP Therapy can be found here: https://hairlossclinic.ca/platelet-rich-plasma-prp-therapy-prp-treatment-clinic-opens-in-richmond-hill/
"PRP was created over 20 years ago initially employed in periodontal therapy, orthopedics, and sports medicine," commented a spokesperson from PRPTherapy.ca. "But in recent years, it has become increasingly popular in the field of dermatology. The skin and hair industry has seen benefits of using PRP in the use for acne scars, wound healing, fat grafting, skin rejuvenation, and hair regrowth. The results are often quite remarkable. We are very happy to be offering these treatments here in Richmond Hill."
Hair Loss Clinics began using PRP in dermatology after researchers found that high concentrations of platelets in plasma cells can promote hair growth by prolonging the growing phase of the hair cycle. Our PRP technician will draw your blood and spin it in a centrifuge to separate out the platelets and plasma. Using a micro needling device, the plasma is injected into the scalp where hair loss has occurred. It usually takes a minimum of three months to see an improvement. Most clients, both male and female, can expect to see a 25% to 40% increase in hair that they have lost. PRP Therapy for alopecia works best if hair loss occurred within the last five years or so. It is more challenging to wake up hair follicles that have been dormant for a long time, so for those considering therapy this is something to keep in mind.
According to the clinic, PRP can also help get rid of wrinkles. Aesthetic PRP Facial Rejuvenation using Platelet-Enriched Plasma (PRP) has become one of the sought-after cosmetic procedures in aesthetic medicine. Reversing the sign of aging and getting regenerative effects is possible using platelets and growth factors from the patient's own blood. This is safe, cost-effective, results-delivering treatment for facial rejuvenation which includes wrinkles, scars, sun damage, age spots, and dark circles under the eyes. Post treatment effects generally show a tighter, more radiant skin.
PRP has been found effective in helping patients with different types of scarring left behind due to acne breakouts or from many other causes. PRP or platelet-rich serum, when injected into the scar tissue, stimulates collagen and elastin production in the underlying layers of the skin. Over time, the depressions of the scars begin to even out, leaving a smoother, plumper, more youthful appearance.
Remarkably, PRP can often reverse the signs of ageing? Experts agree the three main signs that testify to aging are fine lines and wrinkles, sagging skin, and loss of volume and elasticity. First signs of ageing can even appear in the twenties and they get progressively worse with time. In all three of these areas PRP can deliver clear results.
Be sure to contact PRP Therapy to have any questions answered or to book an appointment.
For more information about PRP therapy, please visit https://prptherapy.ca.
Other services offered at Laser Wellness https://laserwellness.ca include Scalp Micropigmentation (SMP) at https://hairtattoo.ca, Tattoo Removal Service https://tattooremoval.clinic, and Laser Quit Smoking at https://annepenman.ca.
Release ID: 88976564