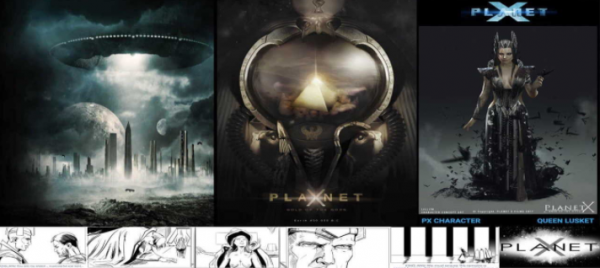 - December 22, 2021 /PressCable/ —
PLANET X Movie MetaVerse is the first big-budget movie to sell every FILM FRAME as a 3D collectible, plus the actual film frames from the movie when its released. 24 frames per second, 1,440 frames per minute, 125 minutes per movie add up to 180,000 film frames being sold under different collections for the acts in the movie. The Planet X script (written by creator Timothy E. Burke), was read and reviewed by Paramount Pictures script department and Timothy now brings the project to the crypto-community; inviting movie & crypto lovers to support and contribute crypto or buy NFTs featured in the project. The team are currently in talks with one of the biggest gaming developers in the world to bring the Movie Metaverse to life.
Find out more here – https://discord.gg/2WFeH4ER
Timothy's film is an adapted screenplay from ancient Sumerian clay tablets, discovered in 1849 by British Archaeologist; Austen Henry Layard. It is a highly original, ancient alien thriller, with comparisons to Star Wars, Game of Thrones, The Godfather, The Matrix and Dune with an accompanying X-files style TV series in financing and development stage with the movie.
For the first time, NFT character creations, avatars & virtual land creations can be uploaded via the Planet X website, and can actually feature in the movie once it goes into production. In fact, the whole of "Planet X" is being sold with land being priced according to the film script and storyline, and how it is featured in the movie:
The Movie MetaVerse project is the brainchild of Timothy E. Burke, who most recently, alongside his co-production executive partner Mr. Jonathan Willis, served as a financier and executive producer on Lionsgate's Killers Anonymous, starring Jessica Alba & Oscar-winner Gary Oldman. They have also co-financed and served as executive producers on a new 'interactive film' receiving great reviews and on independent films starring Golden Globe and Oscar winning actresses. Tim is a panel host at 'Digital Hollywood', providing insights into how blockchain and film can inter-connect and has appeared in Entrepreneur magazine talking about his team's crypto ecosystem.
On December 13th 2020, Tim and his partner Stan Larimer, in partnership with SpaceQuest, became the first western company to successfully complete a 'blockchain transaction in space', on their decade-long mission to help eradicate extreme global poverty with their space-based, echo-friendly blockchain company, SovereignSky.com – whose very concept came from the Planet X movie script.
"Planet X" and its movie examines the true nature of 'power' and uncovers a 'secret' of trans-dimensional, deep-space travel technology being used to find a new 'birth planet' as the tidally-locked PLANET X is on the brink of destruction. An epic war saga has begun on all sides between of the royal bloodlines, the five ruling realms and the 12 dimensions over this secret knowledge and the rarity of Planet X's main currency 'ELIXIR' – a precious, space crystal concoction, only available to the ruling class, which provides 'longevity'. The basis of the movie gives insight into the 12 Dimensions on PLANET X – and, possibly our own reality as we will come to know it…
PLANET X Movie MetaVerse is an alternate, new virtual world reality where members (or citizens) survive and thrive, it is designed to allow its inhabitants to earn money to buy, sell or develop land and to operate actual online blockchain businesses with its own economy, called 'META' and planetary currencies 'RUON' and space-based currency called 'SOVEREIGN' now becoming a reality here on earth. "Planet X" will own and build 'stargates' in other metaverses like the Sandbox and Decentralized land for these metaverse members to enter through.
The MetaVerse strives to achieve a global, happy, new utopia, which someday could become your favorite reality – similar to the 6th Dimension in the PLANET X movie itself.To celebrate the launch, the Planet X Movie MetaVerse will launch a first-of-its-kind sci-fi art collection featuring two of Hajime Sorayama's pieces; a Borgified Romulan Commander and the famous Sorayama Future Robotic Sea Life
The movie, play-to-earn gaming, and NFT MetaVerse launches shortly with a number of PLANET X movie-themed NFT collections, including 1st edition drop of the 11,111 Mr MetaVerse, virtual lands, interactive NFTs you grow & breed, film frames, movie characters and much much more. The movie NFT platform has also created a novel and unique way for NFT with the option to use a number of other top crypto-currencies using QR codes & Trust Wallet integration and featured on Opensea after purchase.
Find out more here – https://discord.gg/2WFeH4ER
Release ID: 89057504