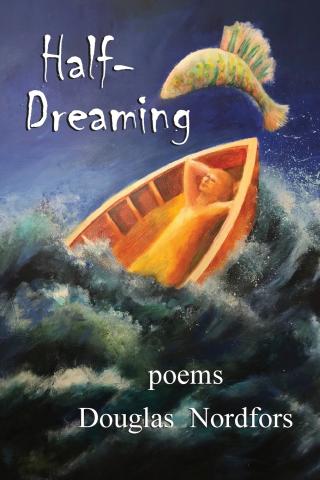 - January 9, 2020 /PressCable/ —
Austin, Texas, January 9, 2020- Plain View Press is proud to offer the latest work from Douglas Nordfors, Half-Dreaming: poems, hitting bookstores everywhere on Jan 10, 2020.
Half-Dreaming uses abstract thought to question, perceive, and come to terms with, the concrete world, and navigates the complexities of being human. Poems about love, friendship, death, work, politics, the environment, creativity, complex feeling, and perception may start with an inner, abstract spark, and then search for outer connection. Others start from concrete circumstance, and then let imagination provide answers and healing. In the end, the abstract and concrete become interchangeable.
Seattle native and Virginia resident Nordfors gives each poem a unique feel, changing tone and style to fit the needs of a particular subject, mood, or situation, much like a chameleon. A teacher of writing and literature, Nordfors has also published poetry books Auras (Plain View Press 2008) and The Fate Motif (Plain View Press 2013). Since 1987, he has published poems in numerous journals, including Quarterly West, California Quarterly, Poetry Northwest, The Iowa Review, Poet Lore, The Hampden-Sydney Poetry Review, The Seattle Review, and The Sycamore Review.
"The poems in Half-Dreaming, … fly like birds around twin flagpoles—the abstract vs. the concrete, the self as stable vs. the self as always in the process of creating itself, what is knowable about the world vs. what is, and always will be, mystery. … Over many years, Nordfors has quietly built a body of work that generously rewards sustained attention." —Steve Bellin-Oka, author of Instructions for Seeing a Ghost
"Every poem brings a new revelation, you'll find no artifice or filler here. … It is a deft and elegant book, and, for those who seek refuge in poetry, a welcome reprieve from the political noise." —Sarah Estes, author of Hive Bone, and Field Work
Plain View Press is a 45-year-old issue-based literary publishing house, a far-flung community of humane and highly creative activists whose energies bring humanitarian enlightenment and hope to individuals and communities grappling with the major issues of our time—peace, justice, the environment, education and gender. We find healing in existing reality. Our books come from artistic collaboration between writers, artists, and publisher.
Copies of Half-Dreaming: poems can be purchased through Amazon, paperback (ISBN: 978-1-63210-070-2) or ebook (ISBN: 978-1-63210-071-9), through retail bookstores, or ordered in quantity from Plain View Press, http://www.plainviewpress.com
View the page listing on the Plain View Press website at Half-preaming: poems
Release ID: 88941994