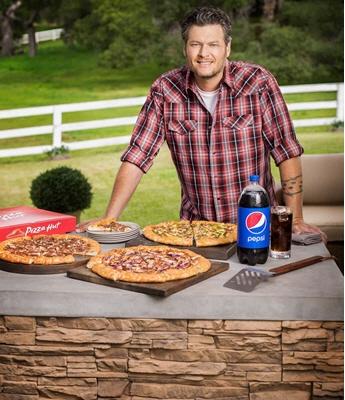 - April 30, 2019 /PressCable/ —
Los Angeles, CA / National brands often use celebrity endorsements in their commercial advertising and marketing campaigns very effectively. Celebrity spokesperson Blake Shelton worked with Pizza Hut, a Yum! Brands, Inc. company, on "Blake's Smokehouse BBQ" advertising campaign, combining print and digital marketing with television ad spots.
Pizza Hut Inc. generates over $12.03 billion in annual revenue with 18,000+ restaurant and delivery locations worldwide, making it the largest pizza chain in the world by number of locations, and second in the world based on revenue. Domino's currently holds the number one spot in revenue at $12.25B, even though it only has 16,000+ locations.
It's easy to see how they can afford such lavish ad campaigns with notable Hollywood celebrities. However, brand leaders like Pizza Hut do not get to the top being wasteful with their annual advertising budgets.
Celebrity spokesperson advertising by Blake Shelton in Pizza Hut campaign where Pepsi is also featured. Source: Michael Grecco.
To leverage maximum profitability in cost savings, time savings and revenue generation, smart brands retain seasoned industry professionals like Michael Grecco, a Creative Director, Celebrity Photographer, Commercial Photographer and Commercial Video Director for Fortune 500 company brands.
"Pizza Hut retained my creative services due to my combination of large production commercial brand experience and having worked with many elite Hollywood celebrities," Grecco said.
Logistics of a large commercial production shoot can be daunting. By combining a broadcast TV commercial shoot, along with print and digital marketing advertisements, and having a high-demand celebrity like Blake Shelton, all condensed into a short period of time.
Let's not forget about the real 'star' of the whole production, the pizza. Pizza Hut has its own traveling tractor trailer restaurant on wheels to make fresh piping hot pizza for all its on-location commercial production shoots.
"The challenging part was shooting five print ads and two video spots in only two hours. Nothing could be shot without the leading talent being ready, the fresh Pizza Hut pizza. The two hours were cut shorter because of this, but we pulled it off. My best work comes from challenges and tight time-frames." Grecco stated.
About Blake Shelton
Blake Shelton is an American country singer, songwriter and television personality. Shelton has been an original coach / host on the popular NBC long-time running TV series The Voice, for the past 16 seasons.
Shelton has been dating Gwen Stefani, a former coach / host on The Voice. Stefani is an American singer, songwriter, actress, and record producer. She is also the co-founder and lead vocalist of the band No Doubt. According to Forbes magazine, Shelton has amassed a $60 million net worth, while Stefani has built a $100 million net worth.
About Pizza Hut Inc. and Yum! Brands, Inc.
Yum! Brands, Inc. is one of the world's largest restaurant companies. An American fast food company and Fortune 500 company, Yum! owns and operates popular brands such as Taco Bell, KFC, Pizza Hut and WingStreet worldwide. Yum! previously owned Long John Silver's and A&W Restaurants, and was formerly under the company name Tricon Global Restaurants, Inc.
Pizza Hut Inc., a subsidiary of Yum! Brands, Inc., is an American restaurant chain and international franchise founded in 1958 by Dan and Frank Carney. The company is known for its Italian-American cuisine menu, including pizza and pasta, as well as side dishes and desserts.
About Michael Grecco
Michael Grecco is an extensive award-winning Celebrity Photographer and Creative Director with a photography career spanning 41 years, with studios in both Los Angeles, CA and New York City, NY.
Grecco's cover shoots of other business and entertainment industry heavyweights are numerous. Other notable publications and magazine covers Grecco's photography work has graced, include: Forbes, Business Week, TIME, Newsweek, People, Harper's Bazaar, GQ, Maxim, Esquire, Playboy, New York Magazine, LA Times, TV Guide, Entertainment Weekly, ESPN Magazine, Men's Health and Sports Illustrated, just to name a few.
Grecco can be found traveling the globe over 200+ days each year on high-end commercial, advertising, editorial and entertainment photoshoots and cover shoots for many recognizable celebrities, iconic business greats and global brands. For more information on retaining Michael Grecco and his creative team, call +1-310-452-4461 or visit https://MichaelGrecco.com
For News Media and Press Inquiries
Contact Rachel Adams, Media Relations at Photographers PR. Email rachel.adams@photographerspr.com or call +1-702-997-1222 ext.625.
###
Release ID: 507738