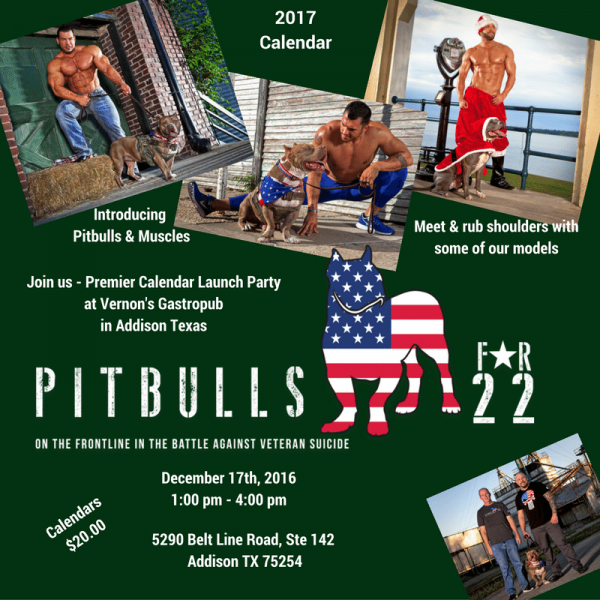 - December 12, 2016 /PressCable/ —
Pitbulls for 22 of Dallas is launching its first calendar! Pitbulls and Muscles 2017 calendar features North Texas area males who are amateur or professional athletes and bodybuilders posing alongside rescued pitbulls. Each month features a bio of the model and the dog's story.
The Pitbulls and Muscles 2017 Calendar is available for pre-order on www.pitbullsfor22.com at a discounted $20 until the launch party. At the launch party, you can purchase calendars there for $20. They will be great Christmas presents for any of the ladies in your lives! On the 18th, the calendars will be $25 plus $3.95 s&h.
For more information visit: www.pitbullsfor22.com.
About Pitbulls for 22
Who we are: Pitbulls for 22 of Dallas is a private veteran organization. We work at connecting veterans with pitbull/bully breed rescued dogs to get each veteran an emotional support animal. We assist the veterans with the proper paperwork and licensing for each animal. Our driving cause is to prevent veterans from quitting on themselves. We fund these projects through t-shirt and products sales. We give $2.22 from each t-shirt sold to the charities assisting us with our mission.
Our values: Hope is the cornerstone of Pitbulls for 22. Without hope for a better future for our veterans and pitbulls/bully breeds, there is no foundation to build our organization upon. Upon hope, we lay our Faith. Faith that we can save more pitbulls/bully breeds, build a community for veterans, and lower veteran suicide rates. Pitbulls for 22 believes without Integrity, we as an organization will fail. Be it how we handle charitable funds raised to support the foundations we spotlight, or in how we do business, the people we work with and companies we do business with, will always be confident in that integrity. We will Lead by example; founded by a Marine, we will lead by being in the front and getting in the fight. Action, we strongly believe in taking action over awareness. You know the problem let's work together to fix it. Without Strength, action is just talk. We will be strong for the veterans and the dogs. Steel sharpens steel. Community building is the best way to make changes. We are a team. We want to build a community to give veterans hope and save the pitbulls/bully breeds.
Release ID: 153872