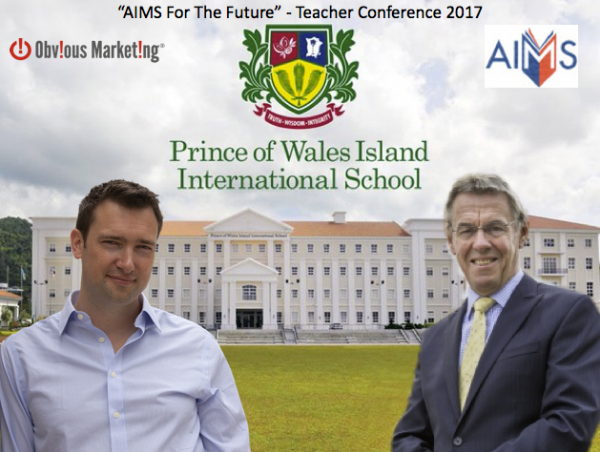 - March 24, 2017 /NewsNetwork/ —
Teachers and educational leaders from international schools across Malaysia attended the "AIMS For The Future" conference on Saturday 4 March 2017. The event attracted over 170 teachers from across the Association of International Malaysian Schools (AIMS).
Building on the success of the previous conference in 2016, the event sought to focus on helping the teaching staff build capability and employability beyond pure academic education. While academic results remain the principal priorities for schools and education, there is a growing realisation that success in the workplace demands more than top grades.
Speaking about the objectives of the event, host Simon Leese, Principal of Prince of Wales Island International School commented,
"Our theme this year was 'AIMS For The Future'. All member schools were invited to offer workshop sessions to share their best practice and effective ideas with their colleagues from throughout the AIMS group. Everything we do in our schools aims to promote well-being and future success – from the intangible social climate we create, to the most structured programmes. We all have AIMS for the future."
The keynote address was delivered by UK and Singapore based Founder of Obvious Marketing and Obvious Candidate, Sam Waterfall. Mr. Waterfall was selected because his experience bridges between the world of employability and the world of international business. His talk, "Leading Beyond Grades" emphasised that "while good grades and academic achievement are desirable, they are not essential and they are not sufficient." Mr. Waterfall said, "Success in the world of work requires the combination of many qualities, not least initiative and confidence which must be nurtured into students through the opportunity to participate, the opportunity to extend their capabilities and comfort zones and, importantly, the opportunity to try and fail."
Mr Waterfall also addressed the topics of teachers' roles in improving workplace readiness of students, the need to understand the still-developing adolescent brain and the changing views of academic achievement vs employability skills among leading graduate employers. He concluded with 8 action steps teachers could apply immediately with their students to better prepare them for success beyond school.
The conference also focused on innovation and creative pedagogy, co-curricular initiatives and new directions in personal development. Reflecting on the day, Conference Host, Principal Simon Leese said "Each element of the day focused on the development of every young person in our schools as they face their futures beyond school. We want to support all our teachers as they provide critical and progressive leadership and guidance for the students and their parents."
Mr. Leese also pointed out their specific approach which follows the guidance of the World Economic Forum to deliver firstly Functional Literacies (Literacy, Numeracy, Scientific Literacy, ICT Literacy, Financial Literacy, and Cultural and Civic Literacy) which are the core skills students will apply in everyday life. Secondly, the focus is on the competencies of Creative thinking / Problem Solving, Creativity, Communication and Collaboration. Finally, Leese emphasised the need to nurture and develop Character Qualities. "Fitting with the message of Sam Waterfall's keynote address, these include: Curiosity, Initiative, Persistence / grit, Adaptability, Leadership and Social and cultural awareness."
Notes: 1) Full details on the event can be found on the organisation website www.aimsmalaysia.org 2) Sam Waterfall is a global consultant and speaks internationally on the topics of marketing, employability, personal branding and workplace productivity. More information can be found at http://obviousmarketing.com/speaker-schedule/ 3) More information about The Prince of Wales Island International School can be found at http://www.powiis.edu.my/
Release ID: 180542