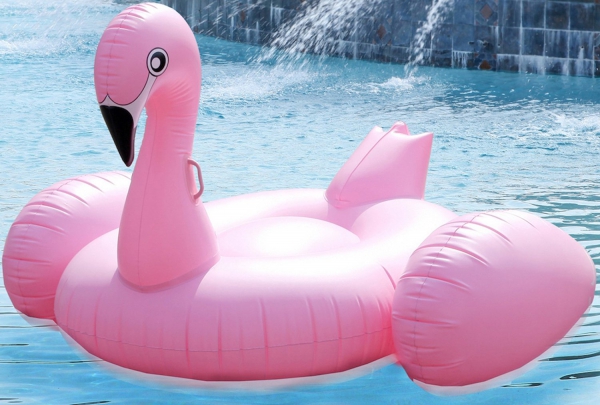 - February 1, 2017 /PressCable/ —
As the six-month anniversary of the launch of their best-selling pink flamingo float approaches, Teddy Shake spokesperson Bailey Anderson issued a statement today concerning the popularity of the float and the many good reviews the pink flamingo float has received.
"These past six months have been amazing," offered Anderson. "Not only have our sales exceeded every goal and projection set for the pink flamingo float, but customers love it. To watch the enthusiasm of our customers towards the flamingo float has been such a reward. Customers have sent us stories, photos and even left positive reviews talking about how much they have enjoyed our flamingo float. We are grateful and excited for the feedback received so far, and look forward to a future of bringing many customers joy."
Measuring 80-inches, the Teddy Shake pink flamingo float is made of a high-quality, bright pink vinyl. This quality vinyl and superior construction ensure that the Teddy Shake pink flamingo float will stay inflated when used. Customers cannot help but smile when they see this large pink flamingo inflated. The flamingo float is large enough that an adult can comfortably lounge on it, or it can be easily ridden by several children.
The Teddy Shake flamingo float is loved by adults and children of all ages. Since the launch in September, over 90 customers have written flamingo float reviews on Amazon.com. Every one of those reviews has been positive, with 100% of customers saying they like their flamingo float, and an average review rating is 4.9 out of 5 stars. A new five-star review was written recently by Marge S. who said "This thing is just too much fun! We have a flamingo thing in our family and also a membership for a local pool where we often leave our floaties for other people to use. This was a huge hit at the pool- the kids and adults alike just love it. None of our floats make it through more than a season at the pool, due to the shared constant use of them and whatnot, but this one seems like it will last at least as long as the rest have! Good quality, cute float!"
The Teddy Shake inflatable pink flamingo float is sold exclusively on Amazon.com and is currently priced at $34.99. All Amazon.com purchases over $49 will ship for free.
About Teddy Shake: "As relaxing as a Bahama breeze; Teddy Shake makes the world's most relaxing, fun, and quirky pool floats for you and your family. With constant R&D and innovative thinkers working to make the most incredible pool floats and toys possible, we want nothing more than for you to have the time of your life."
Release ID: 166155