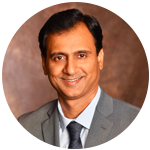 - December 13, 2021 /PressCable/ —
CEO of Pillir, Vaidya Aiyer, recently published an article on the AWS blog titled 'How CPGs Can Simplify and Modernize Complex SAP Environments', which has been well received among industry peers.
Vaidya Aiyer is a leader, an innovator, an entrepreneur, and an all-round technology geek with a strong reputation in the low-code space. He has 25 years of ERP/SAP experience and has propelled his company's vision of accelerating modernization and digital transformation.
The article begins by sympathising with organisations that are faced with the difficult task of modernizing their systems. It touches on how migrating everything to the cloud—like technology systems, inventory management, and customer service—can be a daunting task for many companies, which is why so many aren't taking advantage of digital modernization tactics.
Some of the primary benefits of modernization mentioned in the article are enhanced productivity and operational efficiency, as well as reduced operational costs due to a more streamlined cloud-based architecture.
One challenge of digital modernization mentioned in the article is that some ERP environments rely heavily on custom code to support unique processes and integrations, with 91% of survey respondents declaring they are dependent on it. Not every company has the ability to migrate custom code to the cloud, as the task itself is heavily daunting and time-consuming.
However, this is where Pillir's award-winning platform can help. Its low-code, cloud-based platform can aid SAP-centric companies in the overhaul of their legacy ERP applications, and help to provide bespoke, cloud-based versions of tools to match their individual needs and demands. Organisations can avoid modernization problems by turning to low-code, rapid development, which also allows them to redesign their systems without the need for any advanced integration skills.
The article also mentions that low-code integration can simplify complex SAP Environments for businesses. Finding a means to keep the business logic built into their original systems is vital for SAP-centric firms who want to modernize. An efficient strategy to accomplish this is to choose a speedy but cost-effective deployment of low-code application upgrades, which may considerably expedite ERP modernization without interfering with the critical SAP core.
To find out more about how Pillir's low-code/no-code solution can be beneficial to companies looking to modernise their SAP environment, check out the following URL: https://www.pillir.io
Release ID: 89056449