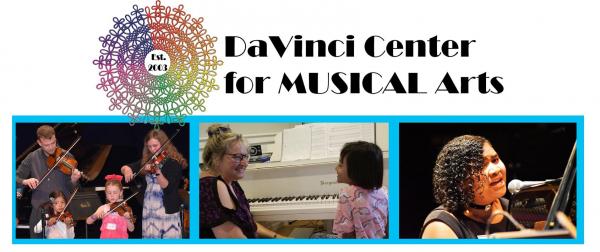 - February 24, 2020 /PressCable/ —
Denver-based Music School, DaVinci Center for Musical Arts, has announced its launch of their nationally recognized Piano Playtime program at the American Montessori Society affilated preschool, Parker Montessori Child Day Care Center.
This brand new collaboration incorporates DaVinci Center offering their preschool Piano Playtime classes to Parker Montessori students. With these popular piano lessons for kids launching at this new location, Piano Playtime brings together the proven benefits of Maria Montessori's original teachings with DaVinci Center's time-tested musical applications of the Montessori Method.
Last week, Parker Montessori gave trial lessons of Piano Playtime to two full classes of children eager to learn something fun and new.
For more information or to register now, visit https://www.davinciarts.org/lessons/parker-montessori/.
Maria Hart, Director of the DaVinci Center and the head instructor, said the following,
"I'm definitely excited to get such a large turnout for the free trial at Parker Montessori. Since the Parker Montessori teachings and Piano Playtime are based on the same ideals and principles, it's absolutely encouraging to know we are all on the same wavelength."
She continued, "We are giving parents who sign up their children before March 1st, a 50% discount off their registration costs with our Winter Special."
Piano Playtime is based upon the numerous neuroscience studies that conclusively demonstrate that learning to play the piano during a child's formative preschool years is one of the most useful activities a parent can do for their child. It is ultimately unique because it dramatically enhances intelligence, brain function, increased neuro-networking, concentration, coordination, and self-confidence. Studies revealed an integration of 86 different, specific brain functions that occurred in the brain only when learning to play the piano. Research also showed that children who learned piano before the age of 7 literally grew physically larger brains.
The Piano Playtime program by DaVinci Center for Musical Arts has been growing rapidly lately with preschool directors throughout the Greater Denver and Broomfield area. With new additions of Aspen Academy in Greenwood Village and now Parker Montessori, it seems parents and preschool directors alike are increasingly realizing the staggering research that points to the benefits of piano lessons for kids.
The Piano Playtime program currently also maintains partnerships in several locations: Aspen Academy in Greenwood Village, Montessori School of Denver; Advantage Learning Center in Lakewood; Gymboree Play & Music in Denver; Schlessman YMCA Child Care Center in Denver; Primrose School of Bear Creek in Denver; Primrose School at Colorado Station; Primrose School of Lafayette, CO, and the Primrose School of Lowry in Denver.
About Parker Montessori School
Parker Montessori, as the only preschool in Parker that is Montessori accredited, was founded in 1987. Their mission is to provide an alternative to parents who are looking for a high quality preschool which grows each child to his or her full potential. They strive to instill a passion for life-long learning by cultivating the inspiration to question and by challenging their students to achieve academic excellence
About DaVinci Center for Musical Arts
DaVinci Center for Musical Arts has been around since 2003 and serves the greater Denver metro area with piano lessons, violin lessons, guitar lessons, voice lessons, mandolin lessons, ukulele classes for children and adults in Denver, Parker, Boulder, Broomfield, Thornton, Arvada, Westminster, Northglenn, Commerce City, Aurora, and throughout the greater Denver area. It's main school location is: DaVinci Center for Musical Arts, 555 Alter St suite a, Broomfield, CO 80020. (720) 838-8685
Release ID: 88947720