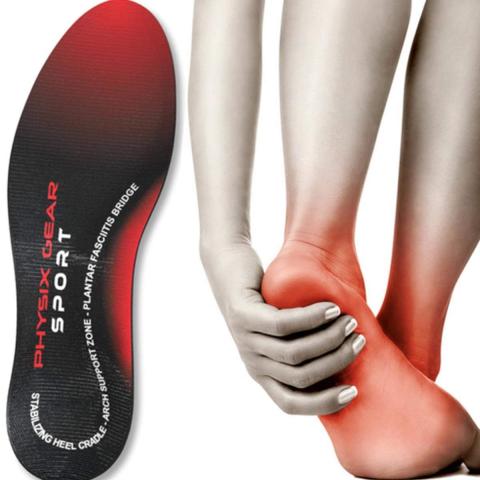 - April 6, 2021 /PressCable/ —
Physix Gear Sport finally announced the release of Orthotic Insoles – it's new Arch Supports Orthotic Inserts, which has been in development since 2018. The main aim is to treat low or hi arches, fallen arches, flat feet, Plantar Fasciitis, heel spurs, arthritis, and tendinitis by providing customers an ergonomically designed lightweight orthotic insole and arch support insoles resulting in long-lasting comfort. Shock absorption ensures the reduction of muscle fatigue in the feet & legs. …but it does so, with a difference.
Adam Noah, Co-Founder at Physix Gear Sport, says: "We wanted to try something new with Orthotic Insoles. Anyone familiar with the sports and wellness market will probably have noticed how everyone else seems to offer low-quality foot insoles. This is a problem because it results in pain and discomfort especially on prolonged use, not to mention the expensive cost associated with it.."
So as a welcome breath of fresh air, Physix Gear Orthotic Insoles will instead have vastly superior material as compared with competitors. They are crafted from high-quality and durable medical-grade Dual Base Layered High-performance EVA foam and PU material. They have deep heel cradles for stability, are anti-microbial, use top quality fabric, and have a low profile ultra-thin design. Physix Gear Sport chose to make this move because we believe people should be able to use a quality orthotic insole without spending too much.
Adam Noah also said "We want to give our customers the ergonomically designed lightweight orthotic and arch support that will provide long-lasting comfort. Shock absorption ensures the reduction of muscle fatigue in the feet & legs. These insoles may be used for work shoes/boots, sneakers, casual shoes, and hiking shoes. With Physix Gear Orthotic Insoles, they have a fresh new possibility. We want them to feel comfortable, especially to workers who must stand on their feet for prolonged periods. when using Orthotic Insoles. Trying something new is always a risk, but it's a risk we believe is worth taking."
Physix Gear Sport has been in business since 2016. Since Day 1 it has always aimed to create sports and wellness products with vastly superior materials as compared with competitors.
To find out more about Physix Gear Orthotic Insoles, it's possible to visit https://www.physixgear.com/collections/orthotic-insoles/products/orthotic-insoles-shoe-inserts-red-black
For further information about Physix Gear Sport, all this can be discovered at https://www.physixgear.com/
Release ID: 89003852