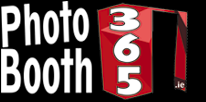 - November 3, 2016 /PressCable/ —
PhotoBooth365 has announced that it will be providing its photo booth rental services for all kinds of events. Based in Limerick, the Irish company aims to make the events and parties memorable for its customers. Weddings, Birthdays, Parties, Corporate Events, Seminars, Expos and all other kinds of social and celebratory events are covered by the rental service in order to give its customers and their guests a memorable experience. The company operates in a large area with a 100 miles radius from its location in Castletroy, Limerick.
"Photos are a timeless way to capture moments and a small business, and Photobooth365 provides the arsenal of equipment to preserve the perfect shot forever." Says Diarmuid Leonard the director of Photobooth365.ie. A photo booth is a modern cubicle compartment that contains an automatic camera and a film processor. Currently, the majority of photo booths used worldwide are digital.
PhotoBooth365 offers booths that are modern in design and are equipped with the latest digital technology. They are available in an oval shape with white, black, VW campervan lime green, red, blue or beige outer skins along with a variety of curtain options to get the best out of every photo.
Each time someone steps into the booth, the technology and perfection ensures that the result that comes out of the booth is always top quality. In addition to the photo booth, selfie pod and smartphone app services are also offered by the company. There an amazing 5.5 ft. Wedding Post Box available for wedding services that is the full scale replica of the traditional Irish pillar post box.
This technological prowess has resulted in an array of raving reviews. Previous client Helen McGrath spoke to this stating, "Diarmuid you were brilliant! Thank you so so much, our guests are raving about how great the photo booth was as the book we received with the pictures and the messages in was amazing and will be treasured forever! We were laughing and crying reading it. I'd recommend you to anyone! Thanks again so so much." There are several other testimonials on the website that reflect the level of joy and satisfaction customers and clients have for the company. These views of the customers are also reflected on the social media presence of the company on Facebook, Twitter, Pinterest and Google+. These traits of accessibility, technological advancement, and reputation come together to make rentals from PhotoBooth365 the most affordable and professional options on the market.
Release ID: 143394