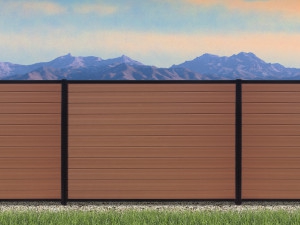 - April 12, 2017 /PressCable/ —
In a slightly different approach to launching its new composite fencing service, Arizona Fence Builders LLC, a Fence Company in Phoenix has decided it will be giving incentive pricing on their new composite fencing products when they install the fence, and this is expected to take place in April.
Where most businesses tend to just launch a new product and not let anyone know, Arizona Fence Builders has decided to be a little more proactive and innovative with its new composite fencing product launch.
Michael Sims, Sales Director at Arizona Fence Builders LLC, says: "They wanted to be creative and innovative with our new composite fencing product launch because we thought this would be a great way to introduce this great fencing material.
It should be a worthwhile launch for both commercial and residential consumers, as this product works well for both. Arizona Fence Builders are working close with their manufacturer to be sure they have enough material ready for the next few months, as they are already contracting the fence product at record pace. It should go great unless President Trump gets approval in the next few weeks to start building his fence…, and buys out all our inventory!
Arizona Fence Builders has always made a point of standing out when compared to other Fence Companies in Arizona and the Phoenix area. This launch celebration is just one of the many ways it does so, along with servicing their customers better than any in the fence building industry.
This is a great chance for Phoenix Arizona residents and commercial business owners to replace their old fencing with a quality fence that will last forever and comes with a 25-year warranty on all composite fencing products, along with a very attractive look for their home or business.
Arizona Fence Builders has been serving the Phoenix area since 2012. To date it has served over several hundred residential customers and commercial business owners that have trusted their fencing to projects to them, and has become recognized as high quality affordable fencing company. Their corporate headquarters can be found on 515 E Carefree Hwy Ste 389, near I-17 and Carefree Hwy, with other satellite locations to serve their customers in Scottsdale, Glendale, Tempe, and Surprise.
Michael Sims also said: "While Arizona Fence Builders may not be the only business that offers multiple fencing products, it is a company with an exclusive composite fence product, like no other, and local business owners and residents are choosing Arizona Fence Builders because of their experienced installation team with attention to service, quality, and by far, the best in the business."
When asked about the new composite fencing product, Michael Sims said: "They think it's going to be a hit because it is a better alternative to wood and vinyl fencing is a more affordable alternative to the popular Trex fencing.
Further information about Arizona Fence Builders Phoenix can be discovered at http://arizonafencebuilders.com.
Release ID: 182957