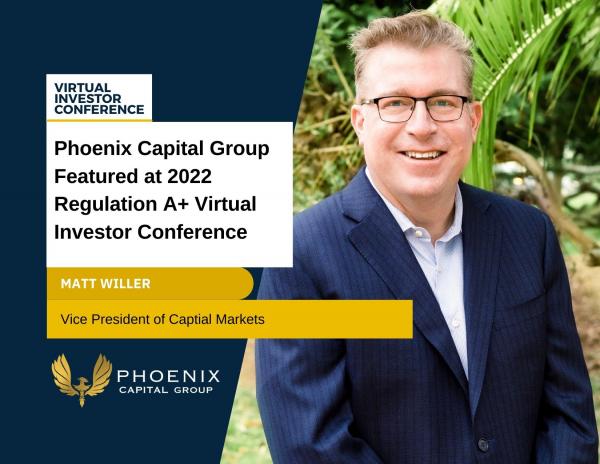 - February 10, 2022 /PressCable/ —
NEW YORK- Phoenix Capital Group will be featured at the Regulation A+ Pre-IPO Virtual Investor Conference on February 10th. Matt Willer, Partner and Vice President of Capital Markets will be presenting and discussing the Company's business model and Regulation A+ high-yield bond offering featuring 9% APY, monthly payments, and a 3-year term.
The Virtual Investor Conference is the leading proprietary investor conference series that provides an interactive forum for publicly traded companies to seamlessly present directly to investors. The event will also feature company executives from eleven other companies that are currently raising funds via Regulation A+ including Miso Robotics, Aptera Motors, and reAlpha. Each executive will share their vision, discuss their market opportunity, investment highlights, and answer questions live at VirtualInvestorConferences.com. Individual investors, institutional investors, advisors, and analysts are invited to attend at no cost.
Investors are advised to pre-register and run the online system check to expedite participation and receive event updates.
REGISTER NOW AT: https://bit.ly/3J7cTT3
About Phoenix Capital Group: Phoenix Capital Group has 32 employees spread out over three offices in Hermosa Beach, California; Littleton, Colorado; and Casper, Wyoming. Its leaders have over 60 years of combined experience in the energy sector, focusing on asset management and capital deployment.
The company's portfolio consists of more than 200 unique mineral and working interest assets with a combined value of $115 million.
It uses proprietary technology to identify mineral rights and non-operated working interests in the Powder River, Delaware, Permian, Denver Julesburg "DJ," and Williston basins.
Since its beginning, Phoenix Capital Group has worked with owners ranging from individuals with small fractional interests to large farmers and institutional owners with thousands of acres.
The company acquires mineral interests, leasehold interests, overriding royalty interests, and perpetual royalty interests. Phoenix Capital Group is currently expanding its proprietary architecture to ensure it continues to provide market-leading services to all its clients — both investors and landowners alike.
About the Offering: The Phoenix Capital Group Holdings, LLC bonds bear an annual interest of 9% with interest paid quarterly. The bonds carry a 3-year maturity with the option for (2) one-year extensions. The use of proceeds is for the acquisition of additional mineral royalty assets.
Investors that are interested in learning more are invited to direct all inquiries to Matt Willer, V.P. of Capital markets at (720) 805-3670 or mwiller@phxcapitalgroup.com.
Release ID: 89063554