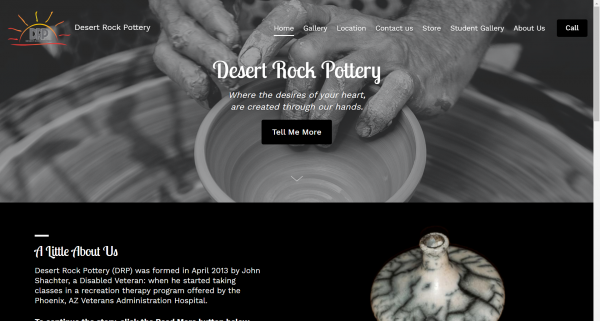 - September 3, 2020 /PressCable/ —
A Phoenix, AZ-based ceramics and pottery studio that creates functional and artistic pieces has launched a new online store. Desert Rock Pottery offers customers small to mid-sized pieces ranging from decorative and artistic, to functional. The company specializes in the varied Raku forms.
Find out more at https://www.desertrockpottery.com
The newly launched online store is part of the company's 20/20 vision, which is enabling it to reach a wider audience. Aside from selling pieces, the company also offers courses including an introduction to the potter's wheel, an introduction to hand building, and couple's courses. Find out more here https://www.desertrockpottery.com/blog/post/68206/welcome-to-our-new-home.
Desert Rock Pottery was founded in 2014 by John Shachter, a disabled veteran who started taking classes in a recreational therapy program offered by the Phoenix, AZ Veterans Administration Hospital. Since then, the business has gone from strength to strength.
Items available from the new online store include a slab formed teepee incense burner with amber brown glaze. The piece is decorative yet functional and could be placed on a mantle, the end of a table, or as a centerpiece. Either way, it is likely to be a conversation starter.
It was formed using a slab of clay that was decorated using a stamp before being wrapped around a cone shaped mold. The piece was bisque fired, glazed with an amber-brown glaze, and then fired again. It includes a small tray to hold a cube or cone incense.
Other items available include a small brass glazed Raku fired dry flower vase, which was formed, bisque fired, and then finished with a brass Raku glaze. It was then fired in a Raku kiln up to the correct temperature and put into a Raku reduction chamber with combustible materials. It is ideal for dry items as foods or liquids will degrade the vessel over time due to the Raku process.
A spokesperson said: "In line with our objectives for 2020, we have totally revamped our site to include many new and exciting features including a blog! You can find out more about what has been going on this past six months and what has led to the changes we have made."
To find out more, interested parties are invited to visit the website provided. Alternatively, visit the company Facebook page here https://www.facebook.com/DesertRockPottery.
Release ID: 88975261