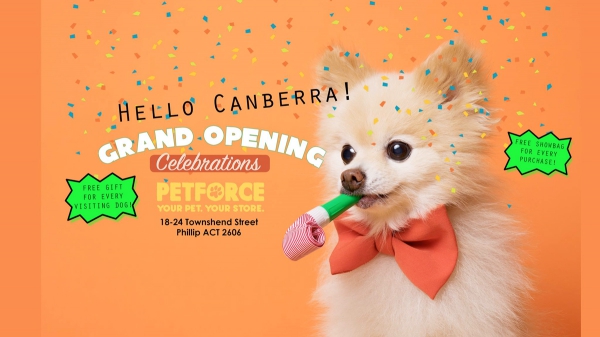 - February 14, 2017 /NewsNetwork/ —
Petforce, an Australian pet store chain, announced the opening of a new location in Phillip, Canberra. The opening party will be held on Saturday, 18 February.
More information is available at https://facebook.com/events/1898072690425053.
Pet caring requires a variety of specialised products, from special food to training and grooming equipment. For this reason, having convenient access to a professional, comprehensive pet store is important for all pet owners.
Petforce is a professional pet store chain currently offering pet care products in numerous locations throughout Australia. Its newest addition is a professional pet shop in Phillip, Canberra.
The opening will be celebrated with three days of promotional offers and discounts, from 17 to 19 February. These special days will be marked by free promotional showbags for every purchasing customer, discounts on most store products, free gifts for every visiting dog on 18 February, free treat tasting and more.
The opening party will be held on Saturday, 18 February, featuring a variety of special moments to celebrate the launch of the new Phillip store.
The new Petforce store features a variety of products for many different pets, including dogs, cats, small pets, reptiles, birds and others.
Petforce offers a wide range of dog care products, including a variety of dog food, leashes and collars, toys, grooming equipment, dog beds, Christmas items, clothing and more.
The Canberra store also features a comprehensive collection of products for cat owners, such as cat food, fleas and worms collars and solutions, collars and leads, feeding and grooming equipment, toys and others.
Finally, the store offers a wide selection of items for birds, reptiles, and small pets. The catalogue includes bird, fish and reptile food, cages, tanks and tank care equipment, filters, heat and lighting items, as well as a variety of health care products for all pets.
Interested parties can find more information by visiting http://www.petforce.com.au
Release ID: 169539