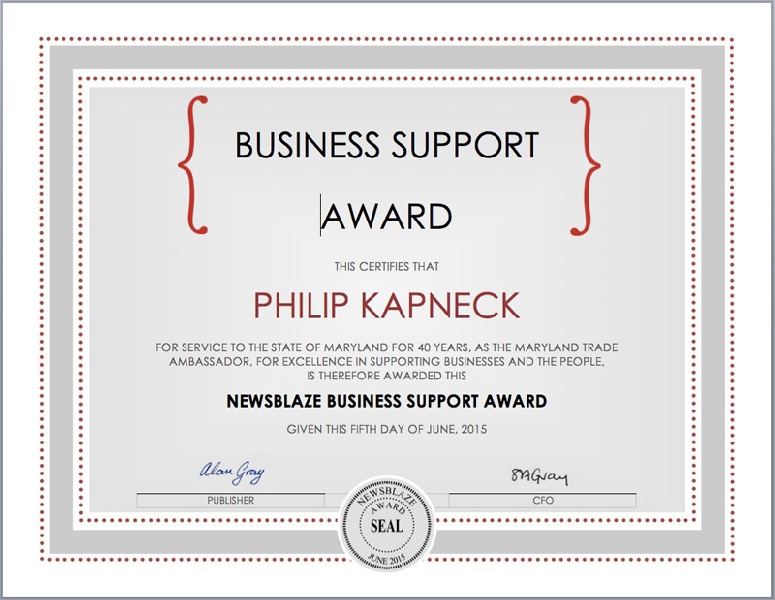 - June 10, 2015 /PressCable/ —
Philip Kapneck was honoured with the NewsBlaze 2015 Business Support award for his service to the state of Maryland for 40 years, as the Maryland Trade Ambassador. Our research shows he is also the longest serving State Trade Ambassador of any U.S. state.
Each 6 months, online media company NewsBlaze gives this award to a special person who has served the business community in their state or across the USA. Philip Kapneck has shown tremendous commitment to his state and its people over the past 40 years, celebrated in October 2014.
In his duties as Maryland Trade Ambassador, he has repeatedly shown his excellence at researching and locating suitable foreign businesses that are a match for Maryland and its workforce, and supporting the state with high integrity. He's also liked and admired by business contacts, state officials, people in his office, and the people of Maryland. These are all qualities NewsBlaze holds in especially high regard.
NewsBlaze gives it's NewsBlaze 2015 Business Support award because it believes the most important element in its business after it's readers and customers are the people we write about.
Alan Gray, Publisher and Editor-in-Chief of NewsBlaze said: "Many companies don't show any appreciation to people outside their organization at all. But here at NewsBlaze, we like to recognize the great work our contacts do. We show them that we are paying attention and giving them the recognition they so richly deserve for the hard work they do every day."
"Philip Kapneck is a fantastic Ambassador with a great attitude. He consistently introduced excellent companies to start operations in Maryland and is a pleasure for his fellow staff to work with. From talking to state officials and people he has worked with, we know that every day he shows that he really cares about the companies he engages, as well as the people of the state and he is always willing to go the extra mile."
"Philip Kapneck displays exactly what we stand for at NewsBlaze … achieving or exceeding the goals set before him, and giving first class service, no matter what the obstacles. We're especially proud of Philip Kapneck for that. He's a very deserving award winner."
More information about NewsBlaze and the NewsBlaze 2015 Business Support award, and winners of this award are available at newsblaze.com
Release ID: 84084