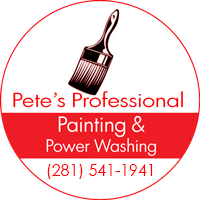 - October 18, 2017 /PressCable/ —
Spring, Texas, October 3, 2017 – Pete's Professional Painting and Power Washing is proud to announce that they have relocated from Okeechobee, Florida to Spring, Texas and that they are looking forward to a household name in the Spring Community.
25 years of experience and a passion for excellence is what Pete's Professional Painting and Power Washing is bringing to the citizens of Spring, Texas and the surrounding areas. We are committed to your 100% satisfaction and work closely with you to ensure that you get the results that you were looking for.
Whether you are looking for your home to be spruced up or a complete new look for your office building, we're there to ensure that the work is completed professionally, on time and on budget. We work closely with you from the start to make sure that you are completely satisfied.
Our goal is to provide a high-quality service at highly competitive rates. Our company has built its reputation on the individual attention that we give to each client, no matter the size of the job. Whether you just need a few rooms painted or a complete overhaul, we'll be there to support you.
You see, we understand that our clients and community are the heart of our business and we strive to build a good, lasting relationship with each and every one of our clients.
We understand that your home or business is one of the largest investments that you will ever make and we want to help you keep it looking its very best. We offer interior and exterior painting services as well as high pressure cleaning for both residential and business properties.
We offer power washing services for those areas that just need a little bit of sprucing up. It's amazing just how much of an impact this simple service can have.
Cleaning not only helps to make the place look better, but it saves on maintenance down the line by preventing the buildup of too much grime. It can also make the place healthier by removing mold and mildew as well.
There are times when a simple clean-up is just not going to do the trick, or times when you need a completely fresh look. Keeping your property properly maintained is essential in maintaining its value. Repainting the property is a small investment that gives you a lot of bang for your buck.
A professional paint job is the perfect way to update your property and keep it looking fresh. With our specialist knowledge and experience in the painting industry, we are able to help you achieve the finish that you want, to the deadline that we agree to.
Founded in 1990, Pete's Professional Painting and Power Washing has built a reputation for service excellence. We're very proud to be part of the Spring community and look forward to helping you with your next painting or power washing project. Learn more about us on our site at: http://painterspringtx.com/
Release ID: 251347