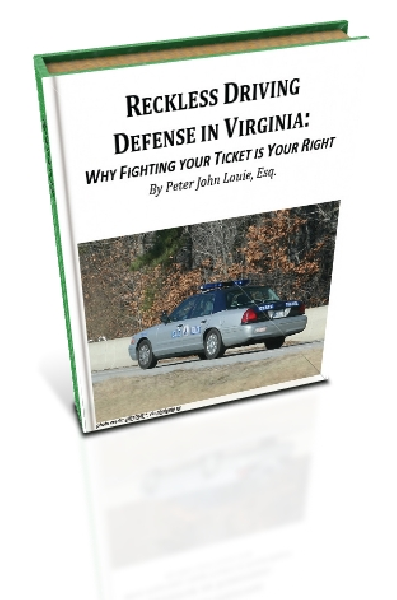 - March 30, 2015 /PressCable/ —
Peter J. Louie law has released their free e-book, Reckless Driving Ticket Defense in Virginia: Why Fighting A Ticket is A Right. This free e-book reveals information on the questions people may have about whether or not they should seek legal counsel for their reckless driving case, and if they even have to be present for the case. The free e-book also addresses if someone charged with reckless driving should obtain legal counsel and gives insight on what they should expect on their day in court as well as what can be done after the General District Judge's ruling.
Peter J. Louie states that too many people have misconceptions and confusion that goes along with what qualifies as reckless driving. People are unaware of some of the ways that they can be charged with reckless driving, the legal penalties, as well as the possible problems it can cause in their life . This free e-book helps to open the curtains on the industry and give regular people insight directly from a traffic attorney that deals with reckless driving in Virginia Beach on a daily basis, and can be assured that they won't find the quality of free information provided here elsewhere.
Anyone interested in learning more and wants more information about the options that they have, the link to download the free e-book on reckless driving in Virginia is here.
About Peter J. Louie
The Law Office of Peter John Louie, P.C. has been practicing serving and representing clients in the Virginia Beach, Norfolk, Chesapeake and greater Tidewater/Hampton Roads area in traffic, criminal, and family law matters since 2011. Mr. Louie is a skilled negotiator and a zealous courtroom advocate for his clients. Much of his time is spent as a traffic defense attorney in Virginia Beach, representing a multitude of clients for various different charges. His goal is to provide high quality and personal representation. He provides free consultations in traffic and mediation matters.
Release ID: 78200