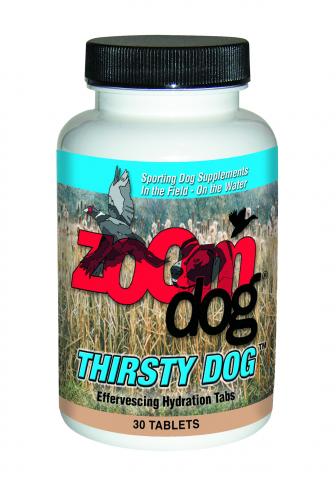 - February 16, 2019 /PressCable/ —
Golden, Colorado- Top pet supplement company in Colorado has announced a new product to add to their already vast online store of vitamins and supplements for pets which currently include the following lines:
Daily Vitamin
Calming Formula Supplement
Joint Support
Skin and Coat Support
Treats
The new product announced last month is called "Thirsty Dog" and is a complete electrolyte support supplement for your dog. The new Thirsty Dog Electrolyte Supplement is an Effervescing Hydration Tablet from ZoomDog Supplements. The top pet vitamin company says the new tablets are a completely odorless, natural electrolyte additives folks can just add to their dog's water.
The business says keeping your dogs hydrated is more important than you might think, especially coming up on these warmer days when folks will be out with their dogs, hiking, hunting and just running around at the dog park. However, Zoom Dog supplements say they would like to specifically target pet owners with hunting dogs, they according to Zoom Dog, "Supplementing in the field with mineral electrolytes, B vitamins, and amino acids that support balanced energy production and healthy metabolism also keep your hunting dog effectively hydrated." The company adds that Thirsty Dog tablets dissolve quickly for easy administration for any dog.
The dissolvable tablets are perhaps the most notable feature for the company, as many of their pet supplements are manufactured as tasty, chewable tablets.
ZoomDog believes this addition to their menu of vitamins and supplements will change the game for the pet supplement industry, and they are excited to be offering such an innovative product.
Hydration supplements have gained popularity for human consumption over the past couple of years and ZoomDog was sure to make this option available for our furry friends as well.
According to the company's owner, Neil Lynch, "hunting and sporting dogs live a very vigorous life with a lot of physical demands! At ZoomDog, we realize the toll this takes on their bodies and the needs they have. With over twenty-five years of experience developing safe and effective animal supplements for veterinarians worldwide, we have developed these unique formulas especially for active working & sporting dogs. Our products help your dogs to be at their best in the field and on the water".
For more details, visit http://www.zoomdogsupplements.com/Hydration-Formula_ep_52.html or call (800) 876-8660.
Release ID: 482997