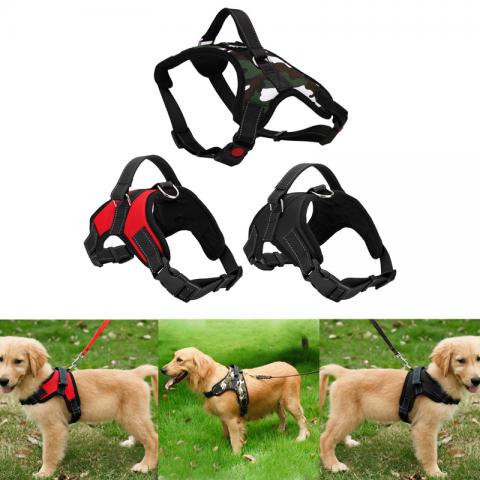 - January 1, 2020 /PressCable/ —
Pet Harness Mart, a new company made up of developers and entrepreneurs with a common passion for pets, is launching a new site featuring its mesh dog harness designed to make dog walking safer and more enjoyable for dog owners and their beloved furry friends.
The site along with its colorful array of dog harnesses in adjustable sizes can be found at https://pethm.com
Dog walking has been a common activity in neighborhoods everywhere, but is it always safe? Ill-fitting collars made from low-quality materials can make exercise time rough on the owner and stressful for the dog. Both are at risk for injury and can suffer from additional stress if the walks are not easy and enjoyable for both.
The mesh dog harnesses made from nylon, along with many other styles in leather and cotton denim from Pet Harness Mart, makes dog walking safe and enjoyable for both the dog and the human.
Using traditional collars for walks can be dangerous to dogs as it makes them more prone to neck and tracheal injuries. Dog owners are also at risk for hand, arm and shoulder injuries when the dog suddenly lunges or increases speed. A no pull dog harness vest from Pet Harness Mart can give the dogs more freedom of movement while owners still maintain control.
Pet Harness Mart also offers many styles with visual aids to keep dogs and owners safe when walking at night. Harnesses with LED lighting and reflective stitching make the dogs more visible to vehicles. Reflective leashes are also available on the site.
Dog walking has benefits for both the humans and the dogs. It is a great way for the owners to get exercise and release stress. Both see improved cardiovascular fitness, lower blood pressure and stronger muscles and bones when they regularly engage in walks with their dogs. Regular walks help to keep the dog's weight at a safe level keeping them safe from osteoarthritis, liver disease, cardiovascular problems, and resistance to insulin. Medical and veterinary experts recommend regular walks. Thirty minutes a day for at least five days a week can show great physical and emotional improvement for all.
Made out of nylon, the mesh dog harness comes with a matching leash and retails for $19.96 but is on sale for a limited time at 30 percent off. That's just $13.98 for the no pull mesh harness and leash set.
Dogs will be secure inside the mesh dog harness vest and will not overheat due to its soft, breathable material.
Pet Harness Mart ensures proper fit and style for your best friend with a variety of adjustable sizes and colors to choose from. They also offer a price promise and easy returns and exchanges. Pet Harness Mart wants customers to feel safe that their information is secure and the quality of both the service and the product are second to none.
Free shipping is offered in over 200 countries and islands. The Pet Harness Mart no pull dog harness will be an international hit in no time.
Dogs offer their owners unconditional love. What better way to repay that love than by keeping the dogs safe and comfortable while engaging in fun exercise for both.
Visit https://pethm.com to order your perfect no pull mesh dog harness today.
Release ID: 88941164