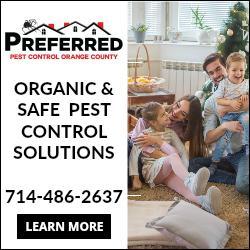 - May 2, 2021 /PressCable/ —
Pest control company in Orange County, CA – Preferred Pest Control OC is the last pest, termite and rodent company you'll ever need! Outstanding service and friendly, knowledgeable staff. Preferred Pest Control has what you've been searching for.
In the cold winter months, families are looking forward to getting cozy in their homes. Rodents have the exact same thing in mind. In fact, rodents are the most common winter pest and 45% of rodent infestations occur in winter.
Mice and rats want food, shelter, and a safe place to reproduce. A female mouse can have up to twelve babies every three weeks. They multiply quickly, producing an infestation in a small amount of time. Rodents can spread disease and chew through wires and walls
Keep an eye out for droppings where someone can store food, under sinks where water is plentiful, on countertops, and along the perimeter of the rooms. Rodents defecate as they travel and their feces can carry harmful bacteria, trigger allergies, and spread salmonella.
Rodents create tunnels to travel through a home, gnawing on walls and electrical wires. A rodent's teeth never stop growing and they also gnaw to wear those teeth down. They like to make their nests in dark, secluded areas where the chance of disturbing them is low. They'll build nests out of any soft materials such as fabrics, cardboard, and paper goods.
The coming warmer weather months mark the beginning of an overwhelming pest season. It's important to make sure you take the appropriate measures to avoid an invasion of your home and gardens. With over 50 years combined experience in the pest control industry, Preferred Pest Control OC knows how to safely remove unwanted insects and pests. They take the time to answer all your questions and will genuinely do everything to solve any pest issue. They specialize in family homes, homeowner associations, apartment communities and businesses all over Orange County.
Preferred Pest Control is proud to be the premier eco-friendly pest control services provider in Orange County. If you suspect an infestation or any other pest problem, give them a call at (714) 486-2637
Restrictions may apply, so please call us today!
Release ID: 89009050