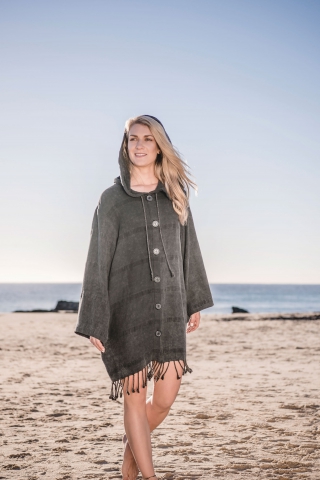 - January 30, 2018 /PressCable/ —
The eco-friendly beachwear brand Miss Summer launched an online shop with its popular, classy and comfy line of beach wraps and blankets made entirely from soft, quick drying Turkish towel cotton.
More information is available at https://miss-summer.com.
Miss Summer is an Australian eco-friendly beachwear brand known for the fashionable and sustainable range of beach wraps, ponchos and blankets it offers female surfers and salt water lovers who want to stay cool, elegant and comfy at the beach.
The brand has now launched an online store where clients can shop for this quality, sustainable range of designer beachwear, made entirely from the soft, quick drying Turkish towel cotton, aka peshtemal, that Turkish bath houses have been using for years.
Its collection includes an elegant blue 'coastal' poncho, a 'stormcloud' beach wrap in charcoal colors and a beige 'sunshine' garment with a cosy inner terry towel in the hood, all ideal to throw on after a day at the beach and walk over to the shops or help change the wet water wear after a surf session.
It also includes a large, comfy beach blanket made from 100% natural cotton which can be used to share a day in the sand with friends or someone special and for picnics, festivals or just an afternoon reading in the park.
They are all designed and made in Australia, available in many sizes to easily accommodate different styles, tastes or shapes and provided, for a limited time, with free shipping nationwide.
The Miss Summer team explains that "born from the ever inconvenient situation of changing the wet water wear after a surf session, our clothing offers female surfers, beach lovers and world wonderers who celebrate an endless summer, something incredibly functional they will feel good wearing and love so much, they will keep using it until it's completely worn out."
For more information on the Miss Summer brand, its unique eco-friendly beach and surf wear collection or the new online store they launched, the public can visit their website at the link provided above.
Release ID: 294031