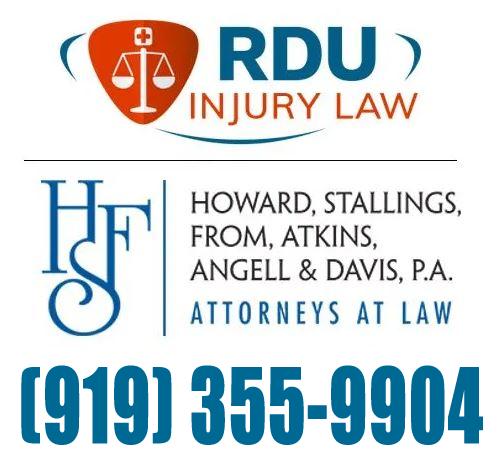 - January 20, 2020 /PressCable/ —
Personal injury cases typically involve helping individuals who have been badly injured in accidents caused by the negligence or reckless conduct of another. Examples include people who have suffered injuries in the workplace, during recreational activities, or most commonly in automobile accidents. The personal injury lawyers at RDU Injury Law are available to sort through the legal complexities that often accompany such traumatic events.
After accidents are investigated to determine wrongful conduct and evaluate damages such as medical bills, lost wages, and disability, each personal injury claim is presented to the at-fault party or their insurance company. If a negligent party refuses to fairly accept responsibility, a personal injury lawyer at RDU Injury Law in Raleigh, NC can file a lawsuit to litigate the claim as needed to obtain justice in the form of a fair verdict or settlement.
The personal injury lawyers at RDU Injury Law pride themselves at being high are experienced in litigation, settlement negotiations, mediation, and arbitration, with a focus on full and complete compensation of their client's claims. As is common in such claims, attorneys receive a predetermined percentage of any award obtained for the client, rather than hourly fees. This contingency arrangement makes it more feasible for personal injury clients to pursue their claims.
The need for a personal injury lawyer is not common, which leaves many puzzled on what to do. Personal injury lawyers in Raleigh NC agree the first concern should always be health. Seek the advice of a medical professional who can begin treatment and record any injuries suffered.
Next, it is very important to document injuries and property damage. Photos are the best way to prove a claim. Take pictures even though the insurance adjuster has probably done the same.
Documentation is so important. The insurance company will most likely want medical records, a recorded statement, and/or for the injured person to sign a release. Do not sign any insurance papers without consulting a personal injury lawyer. Once a release of claims is signed, the case is over.
"Be wary of any insurance company that wants you to settle before you have seen a doctor or while you are receiving treatment. Be careful, as anything you say to an insurance adjuster can be used against you in valuing a claim," says Robert Jessup, of RDU Injury Law. Persons can contact Mr. Jessup or another Personal Injury Lawyer at RDU Injury Law for a free consultation at (919) 355-9904.
It is recommended to obtain a copy of the accident report. This report is prepared by an officer at the scene of the accident. It is used to officially document the circumstances of the accident and can be used in the settling of a claim. Be sure to read the accident report as it can answer many questions.
People involved with a personal injury after an accident may hear the term "At-Fault" Driver or Party. NC is an At-Fault state. This means the at-fault driver is the one who caused the accident. The at-fault driver's insurance company must pay for the damage to their car and for the other person's personal injuries. Mr. Jessup adds, "If the at-fault driver has no insurance, then we can help negotiate with the insurance company to pay the claim."
Another common concern people have is how their medical bills will be paid. Personal injury bills are paid for by an individuals health insurance plan. Unpaid bills will affect credit scores and reduce the amount of money received at final settlement. "If you do not have health insurance, let us know… we can help by reviewing your options for other ways to pay for medical treatment," explains Mr. Jessup.
Another issue to be aware of is vehicle repairs. The person considered not At-Fault in the accident does not need to repair their own vehicle. It's the at-fault driver's insurance company that pays for all car repairs and a rental car while the vehicles are in the shop. If a car is totaled (the repair costs are 75% or greater than the car's value), the owner will be paid the total current retail value of their car. If the policy has collision coverage it may also help cover the costs of auto repairs regardless of which driver was at fault. In any case, the personal injury lawyers at RDU Injury Law can help determine what coverage is available and how it will best serve each individuals needs.
The calculation of a claim has different scenarios as well. The not At-Fault driver is entitled to receive money from the at-fault driver's insurance company for injuries including medical bills, lost wages and expenses, pain and suffering, emotional distress, and resulting disabilities and scars. Compensation will also include repair or replacement of damaged property.
Finally, many people want to know how long it takes to receive the funds needed. Compensation for a claim, either through a settlement or after obtaining a judgment in Court, can vary. However, a personal injury lawyer can work with victims to determine when the time is right to either settle the case or go to Court. Mr. Jessup points out to clients considering RDU Injury Law, "We will use our experience to maximize your compensation for your injuries and property." People with questions can contact RDU Injury Law at (919) 355-9904 to obtain the answers they need.
TESTIMONIAL
"I was in an accident, and the other driver was at fault. The insurance company made me an offer that just didn't sound right and proceeded to tell me I should take it because a lawyer couldn't get me more. It was then I decided to call a lawyer anyway and take my chances. You always get a pile of advertisements, but I chose Howard Stallings because there was a personal handwritten note attached to their brochure and that made it personal to me. I ended up getting 3 times the original offer. – Lawanda Hamrick, Garner, N.C."
Release ID: 88942346