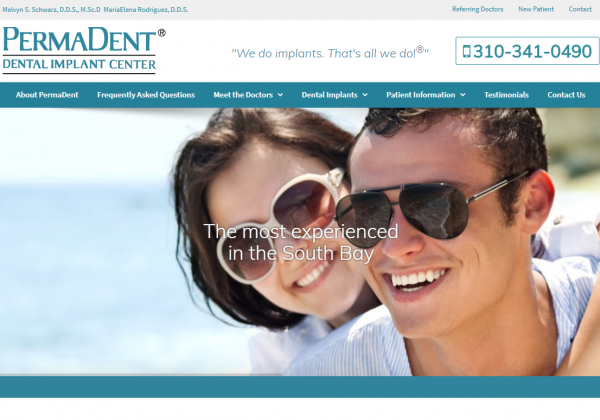 - October 21, 2017 /PressCable/ —
PermaDent Dental Implant Center announces their new website with great design and extended case studies of actual patients. PermaDent has provided patients with dental implants for over 30 years. Now, PermaDent has made it easier for patients to learn about the services offered, and view results, as well as testimonials on their website. With a updated website, potential patients are now able to check out new features like the new before and after page with updated case details, or read aggregated reviews on the website from actual patients.
The dentists at PermaDent recognize that patients need as much information as possible to make an informed decision about getting dental implants. This website update will help greatly for anyone trying to decide on whether to get dental implants with convenient and helpful updates. The dentists also recognize the busy lives of their patients. Many people are often on the go and do not always have access to their computers. This is why the updated website is now also mobile friendly, with a click-to-call option for convenience, so patients can call quickly.
Checkout the new site: https://www.permadent.com
About PermaDent
The PermaDent Dental Implant Center is one of the only centers in the world that is exclusively devoted to placing osseointegrated dental implants. Since PermaDent's establishment in 1986, over 10,000 implants have been placed. Every staff member, from surgeon to nursing and support personnel, specializes specifically in the highest quality care and treatment for patients getting dental implants. By committing to excellent dental implant placement and care, PermaDent has achieved advanced experience in this field. Permanent Teeth with Denture Implants is a solution to tooth loss. Get that perfect Smile back! The PermaDent office has also been designed and equipped precisely for implant dentistry to promote patient comfort, convenience and optimal results. Learn more about Dental Implants: https://www.permadent.com/dental-implants/about-dental-implants/
Google Maps: https://goo.gl/cdgWz3
Release ID: 253214