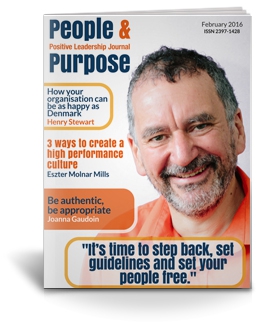 - February 20, 2016 /PressCable/ —
The February 2016 issue of People & Purpose – Positive Leadership journal has been released, covering excellence, high performance, productivity and happiness at work. The new multimedia issue is available free at www.peopleandpurposejournal.com and on the iTunes.
This edition includes:
Happy & productive workplaces – "It's time to step back, set guidelines and set people free." – says Henry Stewart. This month's featured interviewee, the founder and Chief Executive of London-based multi-award-winning training business Happy Ltd. shares his insights and suggestions on creating happy workplaces.
How data will transform business – Philip Evans explains why traditional business strategy no longer works in today's modern business world.
Striving for excellence: what Aristotle would want to share – Reetu Kansal shows the continued relevance of Aristotle when it comes to engendering excellence.
3 ways to create a high performance culture– Eszter Molnar Mills shares the important leadership actions that help develop a positive and high performance culture within teams and organisations.
In the Impact column Joanna Gaudoin shares her suggestions for being authentic while making a positive professional impression. Readers can find a summary of a book, The First Mile by Scott D. Anthony that is an easy-to follow guide to starting a business. 5 of the best resources that can help with in-house team development also listed in this issue of the magazine.
People & Purpose is available for free and established and emerging leaders are encouraged to share the journal with others who find the information useful.
When asked for more information about the issue and the reasons behind creating the Journal, Eszter Molnar Mills, Editor-in-Chief at a said: "The links between feeling good – or happiness at work – and high performance are increasingly clear. The ethos of People & Purpose is about enabling managers to act on these insights. The aim of the current issue is to specifically highlight effective leadership practices for productivity and excellence".
Eszter Molnar Mills Editor in Chief is available for comment. People & Purpose, the Positive Leadership Journal is published by Formium Development, a strengths-based leadership and organisation development consultancy. Formium Development focuses on creating effective solutions, which allow clients to identify and build on their strengths and do more of their best work. Its aim is to help individuals and teams improve their performance and become more engaged and more fulfilled within their work. Training and executive coaching is available for managers throughout their career path, including well respected internationally recognised qualifications in management and leadership from the Chartered Management Institute (CMI). Drawing on academic research and good practice, Formium Development believes that taking a strength-based approach, focusing on positive behaviours and building on what is already working well allows leaders and employees to do more of what they are best at, resulting in enhanced leadership, team and organisational performance.
Release ID: 104534