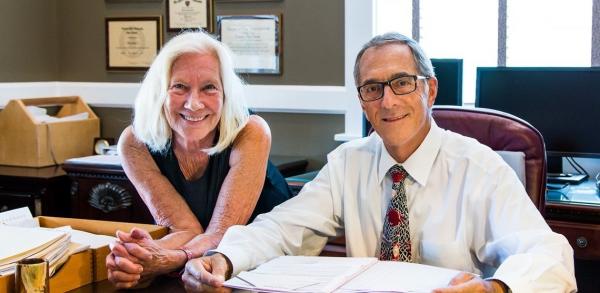 - October 30, 2018 /PressCable/ —
Pensacola, FL – Gross & Schuster, P.A. attorney Terrence A. Gross has released the schedule of his upcoming radio talk show appearances. The Pensacola personal injury lawyer is featured on the talk show every Monday, Wednesday, and Friday.
"It's a lot of fun," says Attorney Gross. "Not only do I get to talk about the things that I am most passionate about, but I also get to help people while I'm doing it."
Gross says that the radio talk show features information about sports, politics and legal topics and states that the new schedule is available for those who want to keep up with these topics. Gross's radio show airs on Mondays at 11:45 a.m. and again at 4:30 p.m. for sports topics. On Wednesdays, the attorney states that the show airs at 9:30 a.m., 10:00 a.m., 10:30 a.m., and again at 4:00 p.m. Topics on Wednesdays include legal subjects as well as a two-hour open mic political talk. On Fridays, the shows air at 8:30 a.m., 11:00 a.m., and 11:45 a.m., with topics that include sports and legal subjects. The attorney says that those who are interested can visit the car accident Attorney Pensacola online to determine where they can listen to the broadcasts.
Gross & Schuster, P.A. are attorneys who dedicate the wide majority of their practice to helping victims of vehicle accidents. The attorneys have years of experience in helping clients with their personal injury lawsuits and state that they represent clients in Florida and throughout the South with accident injuries.
"We are here to ensure that you are treated right," says Gross. "We want to help you protect your rights and seek the compensation to which you are entitled under the law."
The Pensacola motor vehicle accidents attorneys offer a free consultation with one of their attorneys for those who have been injured in an accident. Gross states that the firm's success is in part due to their commitment to finding all sources of liability in addition to drivers and owners of the vehicles in question. He states that their dedication to their clients means that they will never leave a stone unturned and that they will always do everything in their power in order to help their clients to reach a satisfactory conclusion to their cases.
Gross says that during the legal topic broadcasts of his radio show, he covers many topics and answers a number of questions for clients who may have been involved in a vehicle accident and are not at fault for that accident. He says that the radio show covers a wide range of topics on the legal spectrum and states that anyone who has questions should tune in and listen to the legal broadcast to have their questions answered, or visit the attorneys on their official website at https://grossandschuster.com/ to learn more about the legal process when involved in an accident. The attorney states that those who have questions about a specific case can contact the firm to schedule a consultation.
Terrence A. Gross regularly conducts continuing legal education programs. He speaks frequently at personal injury seminars for other attorneys in Florida and teaches in the paralegal program at Pensacola State College in Florida. In addition, he has published a number of articles on insurance laws in Florida and has personally handled thousands of cases involving negligence on the part of a motor vehicle operator.
Gross is a State Certified Arbitrator, a Civil Trial Lawyer, on the Florida Bar Board of Legal Specialization and Education and practices in the areas of personal injury, car accidents, wrongful death, dog bites and similar cases. He was board certified by the State of Florida as a Civil Trial Lawyer in 1993 after passing the bar in 1979. Gross is a member of various boards and carries a number of licenses and certifications, all of which can be seen on the official website for the Florida legal firm.
Those who are interested can learn more about the radio broadcast by visiting the attorney on his official website. Clients who may need to schedule a consultation or want to learn more about the firm and their legal specialties can visit them online, as well. A full list of their practice areas and information on each attorney is available on the website. Gross says that those who are interested should tune in to the radio broadcast during the appropriate times for an informative yet entertaining show. More information on the broadcast can be found online, as well.
Release ID: 434497