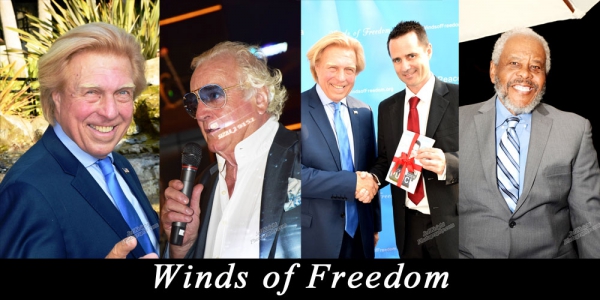 - September 16, 2017 /PressCable/ —
The UN-mandated organization Peace One Day and the Rotary Clubs of South Bay present a screening of Alex Ayzin's Winds of Freedom Symphonic Multimedia Presentation at the Hermosa Beach Community Theater on September 21 at 6:30 pm.
Alex Ayzin created The Winds of Freedom multimedia event to celebrate life, teach history, inspire peace as well as build hope for a brighter future. Rotary Clubs of South Bay, in conjunction with Winds of Freedom Director of Communications Pete Allman, secured the Hermosa Beach Community Theater facility for the only Peace Day event to be held in Los Angeles.
After the screening, a panel of speakers will present a Q & A session featuring local residents and celebrities. The panel consists of Sy Richardson (Repo Man/Pushing Daisies), Tom Hallick (The Young and the Restless), Said Faraj (Green Zone), Wiley Drake (Senior Pastor of First Southern Baptist Church of Buena Park), Alex Ayzin (Founder and creator of the Winds of Freedom), and Pete Allman (Communications Director of Winds of Freedom Foundation).
"Peace One Day supported our efforts to create Peace Day LA, and our wonderful friends in Rotary were the ones who made this event happen. Rotary's long history of peace activism is much appreciated, and the South Bay group went more than the extra mile for us. Our association with Rotary creates the basis for annual Peace Day LA events with many kinds of activities," Alex Ayzin said.
Ayzin says that from the start, he always viewed the Winds of Freedom project as a "tribute to the human spirit in man's timeless quest for peace and freedom."
In 1979, Alex Ayzin and his whole family defected from the Soviet Union to the West. He says Winds of Freedom was as much a response to his upbringing in a highly repressive society as to the outward events which pushed him to bring it to life. Winds of Freedom was a pure act of love, that embodies the pain and suffering of his and other families.
After the Chernobyl nuclear plant meltdown in his homeland, Ukraine, Ayzin conceived Winds of Freedom as a full-length symphony, but it also became a response to world events as the Cold War went through its dramatic climax in the late 1980s.
The debut for Winds of Freedom came in 1991 at Carnegie Hall, but thanks to modern technology, it has now been transformed in to a moving multimedia event with video and still images. This new format still highlights the innovative classical score written by Russian composer, Emilian Sichkin.
Winds of Freedom was the second symphony commissioned by Alex Ayzin. The first was Concerto for Astronauts, a tribute to the brave souls lost in the Challenger Space Shuttle explosion.
The main feature of this event is something unique
in the annals of peace activism; a private citizen commissioned a major symphony from a classical Russian composer, and now, decades later, thanks to modern technology, that private citizen and his collaborators have the power to change the world.
Peace One Day and Rotary Clubs of South Bay is a collaboration between two heart-centered organizations – one relatively new and one long-established. This collaboration brings to Los Angeles the only Peace Day event.
Open to the Public. Everyone is invited to attend.
Peace Day LA, September 21, 2017 Hermosa Beach Community Theater
, 710 Pier Ave., Hermosa Beach, CA 90254
Those interested in attending should RSVP at http://www.tiny.cc/wof921 Everyone in attendance will automatically be entered into a FREE raffle to win the Winds of Freedom music score on CD as well as other prizes.
Release ID: 239879