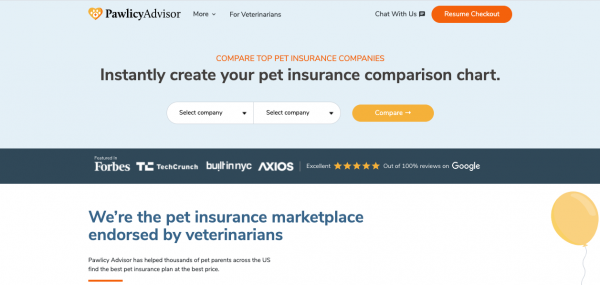 - November 19, 2020 /PressCable/ —
Earlier today, Pawlicy Advisor finally announced the release of their Personalized Pet Insurance Comparison Charts – it's a new comparison tool, which has been in development since Summer 2020. The main aim is to give pet owners instant personalized comparison charts of top providers… but it does so, with a difference.
Edwin Plotts, Director of Marketing at Pawlicy Advisor, says: "We wanted to deliver true value with our comparison charts. Anyone familiar with the Pet Insurance market will probably have noticed how most comparative views show only top-level details and aggregated reviews. This is a problem because a lot of pet owners are left without the info they need to make a good decision about which plan is best for their pet."
So as a welcome breath of fresh air, Pawlicy Advisor's comparison charts will instead give an in-depth look at top pet insurance providers' coverage details side-by-side and allow pet owners to see custom personalized versions that highlight lifetime pricing differences based on their unique pet. Pawlicy Advisor chose to make this move because pet owners need much greater detail to understand what coverage and pricing options are best for their pet's breed-specific health risks, age, location, and more.
Edwin Plotts also said "We want to give our customers more transparency. With Pawlicy Advisor's pet insurance comparison charts, they can feel more confident that they're getting the right coverage at the best price – and hopefully less overwhelmed by all the pet insurance options out there."
Pawlicy Advisor has been in business for a little over 1 year, and since day 1 it has always aimed to make sure people can afford to take care of their pets.
This isn't the first time Pawlicy Advisor has defied convention either. Most insurance websites negotiate different commission amounts with each partner, meaning they have a bias to recommend one over another. Because Pawlicy Advisor gets paid the same amount, regardless of which cat insurance or dog insurance provider pet owners go with, they're able to provide unbiased, data-driven, recommendations that help people save time and money.
Pawlicy Advisor's personalized pet insurance comparison charts are now officially live. To find out more (and see some instant examples), visit https://www.pawlicy.com/pet-insurance-comparison
For further information on how to compare pet insurance, see How To Compare Pet Insurance Providers, Evaluate Top Plans, & Find The Best Policy At The Best Price
More information about Pawlicy Advisor's pet insurance marketplace can be found at https://www.pawlicy.com
Release ID: 88986338