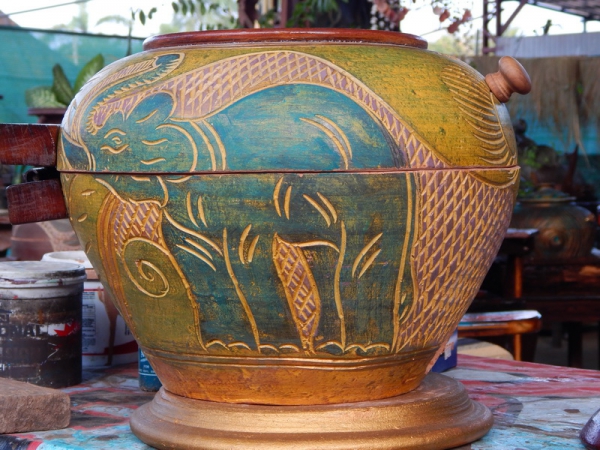 - February 5, 2016 /PressCable/ —
Pattaya based company Clay BBQ Oven is excited to launch its new clay tabletop oven design on February 8, 2016. The company founder has been making clay ovens by hand and cooking with them for over 10 years. Clay BBQ Oven ships all over Thailand or customers can pick up their order locally in Pattaya City.
For more company information and details on the various clay ovens, visit: http://claybbqoven.com
Clay BBQ Ovens previously made its products only at the request of family and friends, but the requests grew beyond that and so the company was formed. The original line of ovens, all hand made in a few different styles, are made in the style of traditional Thai clay cooking ovens. A few tweaks have been made to the original design over the course of time, to make the oven easier to cook in and clean. Many are made as custom orders and customers always compliment their beauty and art-like, crafted finish; an oven that looks great yet functions according to its design.
With the new product due to be released next week, buyers will have an even bigger choice of stylish outdoor or patio clay BBQ oven. The new tabletop version of the clay oven will feature a cooking surface of 19 inches in diameter and comes equipped with a table stand to protect any surface it's used on. The tabletop oven will also be a more affordable option than the custom made clay BBQ ovens.
The structure of the clay BBQ ovens and tabletop ovens is that of a flat grill on the bottom of a clay pot, with the top half acting as a lid cover. As with any BBQ grill cooking method, the juices and flavours from the food being cooked seasons the BBQ, which is essential to achieving flavourful meals. With clay BBQ ovens, the pot also becomes seasoned as well as the grill, which only enhances over time with regular use, so that cooking will result in better tasting meals.
Thai food lends itself perfectly to clay oven BBQ grilling, including traditional chicken satay, grilled fish, BBQ chicken, grilled shrimp, steak and ribs, grilled vegetables and even grilled desserts.
Release ID: 103102