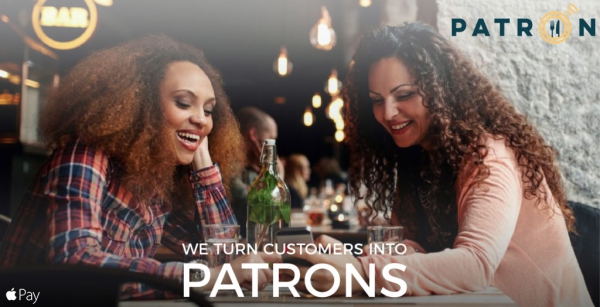 - December 20, 2017 /PressCable/ —
(December 18, 2017) Scottsdale, AZ — With the emergence of incredible new technologies in almost all aspects of our lives today, Patron Mobile has brought the bar and dining app usage experience to the next level with its new mobile ordering app. Already, restaurants, bars and brewery pub owners that have signed up with Patron are seeing fantastic results in their average ticket prices along with improved efficiencies and customer experiences. With this new food and drink mobile ordering app platform for restaurant and bar owners, the benefits are many!
Getting reservations at the hottest restaurants in towns is simple and convenient with Patron Mobile. Need to make a restaurant food order decision on the fly with a bunch of indecisive hungry diners? Use your Patron Mobile ordering app, find your restaurant, book your reservation, order your food and drinks, pay and tip your wait staff all on the Patron Mobile app. This mobile ordering app has brought significant changes to both restaurant/bar owners and their patrons.
So how does the app work to the benefit of restaurants and bars that deploy Patron Mobile at their establishment? Well, starting with the best result, average ticket orders will increase and faster table runs create extra daily capacity. Restaurants get better reviews and feedbacks due to less wait times and the ability to control their dining experience more with the app. Patron has a convenient list of features and benefits of the mobile ordering app for customers or patrons on our website at http://www.patronmobile.com/for-customers/.
Here are some quick facts about restaurants that have joined the Patron Mobile App platform:
· There is a 15-18% increase in the ticket average using Patron (ask us for case studies)
· Locations accepting Patron Mobile are averaging hundreds to thousands more per day in sales. What's great is the larger venues are experiencing higher daily results.
· When it comes to the tips received, there is a 3% rate increase recorded using Patron Mobile.
· With this amazing app, getting great new reviews isn't hard anymore. Some of the restaurants who signed up who previously had a negative star rating are now experiencing a full star increase in ratings simply by making some small improvements in customer experience and combining that with ease of leaving the review for the patron.
· The table turns are very impressive. There is a positive impact on table turns due to the quicker, more efficient order/pay platform.
· Delivering a 5-star experience is now easier using the app technology. Through the app, your customers will now be a part of an interactive platform that offers ease of use plus incentives and rewards.
Turn People into Loyal Patrons with Patron Mobile
· When you invite your friends or family to download the Patron App, you are offered great incentives like deals and discounts, thus increasing marketing reach using your existing customers
· Offer Customers a Cash Back Point for Every Dollar They Spend in Your Restaurant
· Customer management and loyalty modules to help restaurants discover how to make their customers become long-term, loyal patrons
· Gain new customers simply by being visible within the app. With proximity based searching, new customers are just around the corner
· Have all your locations on the same app. Also within the app, each location can create their own Custom App, geared towards their Unique Location Requirements
· Users can send out promotions within the community app
· Keeping tabs on KPIs and important metrics is easier than ever with Patron
· If you still have your POS hardware, Patron can work with your existing POS hardware in most cases.
With the new smartphone age where everyone from teenagers to seniors have a smartphone in their hands, the Patron mobile ordering app is the perfect entertainment and dining experience app for anyone who owns a bar, brewery, hotel, resort, casino or similar type of establishment. With Patron, there no servers to buy or networks to maintain which vastly reduces setup and infrastructure costs. The internet is all you need!
About Patron Mobile
Patron is a technology company featuring its Patron Mobile app for merchants in the dining, club and entertainment industries. Patron's brings a merchant and it's customers or patrons together in a simple, smart and convenient app platform.
Patron Mobile
333 Santana Row #201
San Jose, CA 95128-2004
mbaum@patronmobile.com
Release ID: 280233