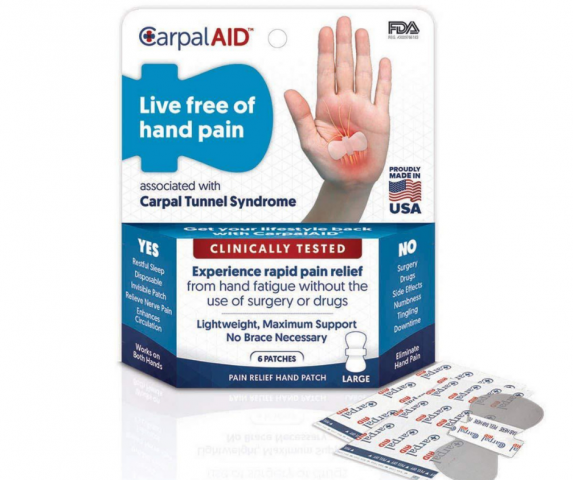 - August 26, 2021 /PressCable/ —
Anyone who suffers with the numbness, pain, and tingling of carpal tunnel syndrome knows exactly how exhausting it can be. That's why Carpal Aid is thrilled to announce the arrival of the uniquely patented Carpal Aid pain relief patch. It's here to relieve the pain of carpal tunnel syndrome almost instantly… and it does so, with a difference.
Joseph Nazari, Engineer and Inventor of Carpal Aid, says: "I was diagnosed with carpal tunnel syndrome and suffered debilitating pain. I wanted to try something new with Carpal AID. Anyone familiar with the traditional carpal tunnel syndrome options, already knows it's either surgery or ugly wrist braces that don't address the problem. They immobilize the whole hand and wrist, when all that needs to happen is the lifting up of the soft tissue of the skin and releasing the pressure on the median nerve. It became my personal mission to help people to avoid surgery by using Carpal Aid."
So as a welcome breath of fresh air, doctor recommended Carpal AID does exactly that: relieve the pressure that causes carpal tunnel syndrome. Clinically proven Carpal Aid is a small, noninvasive, hand patch with an adhesive backing that nearly instantly allows for work, sleep, and general enjoyment of life again, pain-free. Carpal tunnel surgery can be painful, with a long recovery time, and may be out of the question for some, due to out-of-pocket cost or insurance coverage. But relief with clinically proven Carpal AID is instant, and affordable too.
Ilan Nouvahian, Executive Vice President at Carpal Aid said "We want to give our customers the freedom to live, work, and sleep pain-free… with Carpal AID, they have a fresh new possibility for exactly that. We want them to feel like they can get through a workday and still keep going confidently when using Carpal AID. Trying something new is a risk for anyone, but with Carpal AID the payoff is big. It's a risk worth taking."
Suffering from the numbness, pain, and tingling of carpal tunnel syndrome? Doctor recommended Carpal AID is helping people live, work, and sleep pain free… and you could be next.
Carpal AID is available at https://www.amazon.com/stores/page/E994C61C-35ED-4D31-89D3-81CC303B6A80?channel=Ampifire.
For further information about the award winning, patented, and doctor recommended Carpal AID patch, visit https://carpalaid.com/
Release ID: 89043224