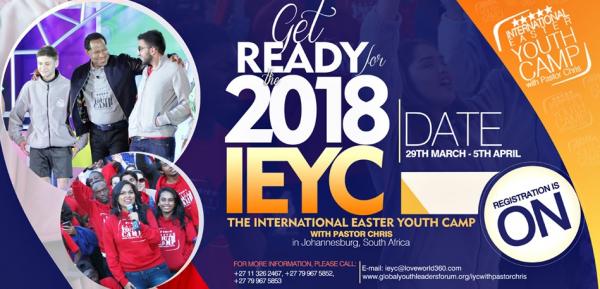 - March 23, 2018 /NewsNetwork/ —
Renowned Nigerian Christian leader – Pastor Chris Oyakhilome will lead the annual International Easter Youth Camp in Johannesburg, South Africa this March 29 to April 5. The program which will run for 8 days, will host young Christians, ages 13 to 21, coming from various countries all over the world. The goal is to make friends, share the faith and pursue the Word of God.
The program will include various activities, focused on education, enlightenment, and excitement. All the participants will have the chance to meet the person behind the annual International Easter Youth Camp – Pastor Chris Oyakhilome, who will actively participate in the activities and spread the Holy word to the young believers.
Young people from every corner of the world who would like to attend the program and participate in numerous fun and educational activities with international friends are welcome to register by sending an email to ieyc@globalyouthleadersforum.org or by filling out the form on the website – http://www.globalyouthleadersforum.org/ieyc_registration.php
This year's International Easter Youth Camp is expected to continue the successful legacy of the annual event which every year aims at presenting new opportunities and surprises. Last year, young believers from every corner of the world could enjoy moments of worship, visits to important places and various lectures and presentations in music and dance from representatives of many countries. To get a glimpse at what to expect this year, watch the promo video, featuring scenes from previous camps: https://www.youtube.com/watch?v=W8D5_yyD60o
(PR By Muller And Green)
About Christ Embassy:
Christ Embassy is a community that comprises of worldwide network of churches that combine a vast and diverse congregation from all walks of life. The vision of Christ Embassy is to bring the Divine Presence to each person and nation of the world. The founder of the embassy, Pastor Chris Oyakhilome and the other members of the embassy have a strong desire and passion to achieve the goal of bringing people together, under the common knowledge of the Divine character made possible in Jesus Christ.
###
Release ID: 319597